February 3, 2009, 7:46 am

By

Sen. Judd Gregg (R-N.H.) called on politicians to "put partisanship aside" this morning upon being officially nominated by President Obama to serve as Commerce secretary.

"The President has called for a bold, aggressive, comprehensive, and bipartisan approach to help address the crisis, and I am honored to do my part as the Administration takes significant action to restore the American economy," Gregg said.

Read more...

Archived under:

News, News/Other, News/Other/Administration
February 2, 2009, 10:24 am

By

After an initial

delay

due to paperwork problems, President Obama's nominee for CIA director will appear before the Senate Intelligence Committee on Thursday for a confirmation hearing.

The committee had scheduled a hearing for Panetta last week, however the former White House Chief of Staff Leon Panetta failed to submit the proper paperwork, leading the committee to postpone.

Thursday's hearing will take place at 2:30 p.m. in the Dirksen Senate Office Building, room G-50.

Panetta's nomination was first met with controversy when Obama announced it in early January. Obama had not notified Intelligence Committee Chairwoman Dianne Feinstein (D-Calif.) before he announced Panetta's nomination to the public; Feinstein and outgoing committee Chairman Jay Rockefeller (D-W.Va.) both indicated they weren't thrilled with the pick upon hearing of it, with Feinstein publicly stating concerns about Panetta's lack of direct intelligence-gathering experience.

After meeting with Obama, and after Obama's team said not telling her had been a mistake, Feinstein supported Panetta's nomination.

Archived under:

News, News/Other, News/Other/Administration
February 1, 2009, 11:45 am

By

President Obama must be embarrassed by the economic stimulus package passed by the House of Representatives last week, Senate Minority Leader Mitch McConnell (R-Ky.) suggested today.

"The president indicated he wanted this to be about a bipartisan proposal. I must say that, surely, privately, he's embarrassed about the product that came out of the House. The only bipartisanship was the opposition to it, all of the Republicans and a number of Democrats," McConnell said on CBS's "Face the Nation."

"I can't believe that the president isn't embarrassed about the products that have been produced so far," McConnell added later in the interview.

McConnell called for a smaller stimulus without earmarks, focusing on tax relief and federal help for homeowners.

Archived under:

News, News/Legislation, News/Legislation/Economy & Budget, News/Other, News/Other/Administration
February 1, 2009, 10:54 am

By

Former Senate Majority Leader Tom Daschle (D-S.D.) has the full support of Sen. Dianne Feinstein (D-Calif.) in his nomination as secretary of Health and Human Services, Feinstein said today in a public statement.

"I know of no one with higher integrity than Tom Daschle, and I know of no one more qualified to be Secretary of Health and Human Services than Tom Daschle," Feinstein said. "I understand that there are concerns being raised regarding mistakes he has already corrected. But I strongly believe Tom Daschle merits confirmation as Secretary of Health and Human Services. He has my full support."

Read more...

Archived under:

News, News/Other, News/Other/Administration
January 31, 2009, 8:25 pm
By
President Obama attended the annual Alfalfa Dinner Saturday night, along with the stars of Washington politics such as former Secretary of State Colin Powell, Alaska Gov. Sarah Palin (R), and Sens. John McCain (R-Ariz.) and Joe Lieberman (I-Conn.). Some of the president's punchlines focused on Robert E. Lee and White House Chief of Staff Rahm Emanuel.
[caption id="" align="alignright" width="292" caption="Former Secretary of State Colin Powell was one of the guests in attendance Saturday."]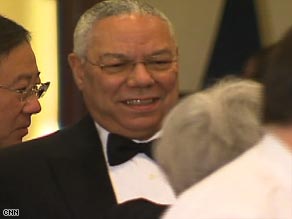 [/caption]
Here's an excerpt from Obama's remarks:
I am seriously glad to be here tonight at the annual Alfalfa dinner. I know that many you are aware that this dinner began almost one hundred years ago as a way to celebrate the birthday of General Robert E. Lee. If he were here with us tonight, the General would be 202 years old. And very confused.

Now, this hasn't been reported yet, but it was actually Rahm's idea to do the swearing-in ceremony again. Of course, for Rahm, every day is a swearing-in ceremony.

But don't believe what you read. Rahm Emanuel is a real sweetheart.

No, it's true. Every week the guy takes a little time away to give back to the community. Just last week he was at a local school, teaching profanity to poor children.

But these are the kind of negotiations you have to deal with as President. In just the first few weeks, I've had to engage in some of the toughest diplomacy of my life. And that was just to keep my Blackberry. I finally agreed to limit the number of people who could email me. It's a very exclusive list. How exclusive?

Everyone look at the person sitting on your left. Now look at the person sitting on your right. None of you have my email address.
Reports from inside the closed-door, off-the-record dinner were that McCain spoke and there were several good-natured jokes lobbed at Palin.

House Majority Whip James Clyburn (D-S.C.), the most powerful African American lawmaker in America, says there were many new faces in the crowd at Saturday night's dinner, hinting that power has taken on a new complexion in Washington, D.C. with President Obama in the White House.

"There were many new faces at this year's dinner," Clyburn told The Hill. "Power and influence have taken on new shades."

The closed-door dinner has been a staple event for A-list politicians in Washington for years.

Obama

spoke

at the dinner, held at the Capitol Hilton on Saturday night, delivering jokes about White House Chief of Staff Rahm Emanuel's use of profanity and his own battle to keep a Blackberry after being sworn in.

Archived under:

News, News/Other, News/Other/Administration
January 31, 2009, 1:06 pm

By

Sen. John Kerry (D-Mass.) dubbed Secretary of Health and Human Services (HHS) nominee Tom Daschle's tax error an "innocent" one today, issuing a statement in support of Daschle's nomination.

"Months ago, Tom personally and proactively addressed the taxes issue and took all necessary steps to correct his innocent error. I

Read more...

Archived under:

News, News/Other, News/Other/Administration, News/Other/Healthcare
January 31, 2009, 11:14 am

By

Republican Sen. Judd Gregg (N.H.) has emerged as President Obama's top pick for Commerce secretary and could be nominated as early as Monday, according to several major news outlets citing an unnamed administration official.

Speculation has swirled around Gregg during the past week. The GOP senator

confirmed

on Friday that he was in the mix for the post, issuing a statement through his office.

Among the news outlets reporting his likely selection are the

Associated Press

,

The New York Times

,

Bloomberg

, and

ABC News

.

While Gregg's departure from the Senate would leave a GOP seat up for grabs, Gregg will not take a post in Obama's Cabinet unless he is assured that his replacement in the upper chamber will be a Republican, two Republicans who know Gregg well

have told

The Hill.

If nominated and confirmed, Gregg would fill the post originally slated for New Mexico Gov. Bill Richardson (D), who withdrew amid controversy over government contracts awarded to his political backers.

Archived under:

News, News/Other, News/Other/Administration
January 31, 2009, 7:57 am

By

President Obama, in his weekly radio/YouTube address to the nation this morning,

pledged

to work with both parties in the Senate to pass a stimulus package and said his administration is dedicated to alleviating Americans' economic struggles.

Watch the video below:

Archived under:

News, News/Legislation, News/Other, News/Other/Administration, News/Other/Economy & Budget
January 31, 2009, 6:49 am

By

Former Senate Majority Leader Tom Daschle (D-S.D.), President Obama's nominee to be secretary of Health and Human Services, paid $140,167 in back taxes and interest while being considered for the Cabinet post, according to a

Senate Finance Committee report

obtained by Fox News.

Most of the tax errors related to Daschle's million-dollar-a-year consulting gig with InterMedia Advisors. Daschle did not pay taxes on the value of a Cadillac and driver provided by the company's owner, Democratic fundraiser and Daschle friend Leo Hindrey Jr., and some unreported consulting income.

Read more...

Archived under:

News, News/Other, News/Other/Administration, News/Other/Healthcare
January 30, 2009, 7:38 am

By

Vice President Joe Biden plugged his White House economic task force this morning in an

op-ed

published in

USA Today

, seeking to address citizens' concerns about the economy.

Biden was

appointed

by President Obama in December to lead a task force that includes Cabinet secretaries from various departments, including Labor, Health and Human Services, Education, and Commerce, as well as the heads of the Office of Management and Budget, the National Economic Council, the Domestic Policy Council, and the Council of Economic Advisors.

In today's piece, Biden assured Americans that his group, officially called the White House Task Force on Middle Class Working Families, will examine a wide array of ideas to help the American economy.

See it in full below:

Read more...

Archived under:

News, News/Other, News/Other/Administration, News/Other/Economy & Budget
Briefing Room Blog Topics
Get latest news from The Hill direct to your inbox, RSS reader and mobile devices.