March 15, 2009, 9:32 am
By
Rasmussen Reports is out with their
daily tracking poll
and finds that President Obama's job approval is hovering at 56 percent, one point lower than
what it was yesterday
.
Rasmussen focuses its approval rating reporting on what they call an approval index; subtracting those that strongly disapprove from those that strong approve. According to their trend chart, that index has narrowed and for the past nine days has been in single digits.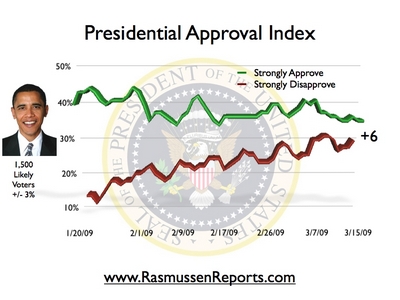 Scott Rasmussen and Doug Schoen argued in the

Wall Street Journal on Friday

that Obama's polling numbers are dropping and, essentially, his honeymoon is over. That idea has become regular talking point on the right, who are saying Obama remains personally popular but his policies are less so.

What do you think? The comment section awaits below.

This e-mail address is being protected from spambots. You need JavaScript enabled to view it

Archived under:

News, News/Lawmaker News, News/Lawmaker News/Administration
March 15, 2009, 9:07 am
By
After what many would say has been a disastrous first month on the job, Republican National Committee Chair Michael Steele is taking steps to shift gears to rebuilding the RNC's organization.
Step #1,
according to the Washington Post
: No more television interviews.
After two weeks of public drubbing over comments that included criticism of radio host Rush Limbaugh and a reference to abortion as a matter of "individual choice," Steele is taking steps to address some of the concerns about his early gaffes. He has called a halt to his television appearances and curtailed national media interviews.

Instead, Steele is stepping up his outreach to the 168 members of the Republican National Committee who elected him, sending them frequent e-mail updates during the week and offering his personal cellphone number and e-mail address to members during a recent conference call.
In particular, Steele is looking to focus on fundraising.
Read more...
Archived under:
News
March 15, 2009, 7:15 am
By
Peter Baker of the New York Times has in interesting
story
today on how to label President Obama's ideology. He notes that Obama attempted to form different coalitions on different issues.
Here are the key grafs:
Obamaism, as it is shaping up, appears to be an amalgam of philosophies
Archived under:

News, News/Lawmaker News, News/Lawmaker News/Administration
March 15, 2009, 6:49 am

By

One of the Democrats' top prospects for Kentucky's Senate seat in 2010 doesn't exactly sound too enthused about the idea of running.

Rep. Ben Chandler (D)

told the AP yesterday

: "I have to at least think about it."

The funny thing is that Democrats will probably rejoice at that statement. Chandler has been considered a top prospect for the race, and he previously indicated that he is not interested in challenging Sen. Jim Bunning (R), whose has seen the early stages of his re-election prospects go from

bad

to

worse.

Bunning's missteps have made him a target for Democrats in 2010. So far, Lt. Gov. Daniel Mongiardo, who nearly defeated Bunning four years ago, is running. Attorney General Jack Conway and state Auditor Crit Luallen are also considering the race but have said they will not run against each other.

This e-mail address is being protected from spambots. You need JavaScript enabled to view it

Archived under:

News, News/Campaigns, News/Campaigns/Congressional Campaigns
March 14, 2009, 6:09 pm
By
No word yet on whether Brazilian President Luiz Inacio Lula da Silva left his meeting today with President Obama bearing the DVD of 1978's Gregory Peck/Laurence Olivier vehicle
"The Boys from Brazil"
-- in the spirit of Obama giving British Prime Minister Gordon Brown
a set of 25 DVDs
of American films that everybody's seen (never mind that the global film buff is
Kim Jong-Il
, not Gordy).
Meanwhile, here's
one blogger's theory
of what went on at the White House in advance of the Lula visit:
"Michelle
Archived under:
News
March 14, 2009, 12:40 pm

By

Americans United for Change are launching (

yet another

) television commercial blasting Republicans for not offering an alternative budget to President Obama's $3.55 trillion outline.

The ad, titled "Crickets," will air on Sunday through Tuesday on national cable and on broadcast in the D.C. market.

"So what kind of budget have the Republicans proposed to get us out of the mess they created?

Archived under:

News, News/Campaigns, News/Lawmaker News, News/Lawmaker News/Economy & Budget
March 14, 2009, 12:07 pm
By
This Gallup-Healthways map
of congressional districts and states' well-being index is, well, awesome. (The
list
is less exciting). Definitely check it out and
go here
for the group's methodology.
A few quick observations:


What jumps out most is the swath in the southeast - starting in Louisiana and stretching up to West Virgina but not including George or most of South Carolina - that has a low index.


California's 20th District - represented by Democrat Jim Costa in the central part of the state - stands out as the only district in California whose index is in the lowest 20 percent.


This e-mail address is being protected from spambots. You need JavaScript enabled to view it

Archived under:

News, News/Lawmaker News
March 14, 2009, 10:54 am
By
Aaron Blake has a
great take
on race between Republican New York Assemblyman Jim Tedisco and Democrat Scott Murphy for Sen. Kirsten Gillibrand's (D) former House seat.
With the race
tightening
, Aaron discusses how important the March 31 special election has become for national Republicans and Democrats.
The race to fill Sen. Kirsten Gillibrand's (D-N.Y.) former House seat is dead even, and with two weeks to go before the March 31 vote has become the major political battleground for both national parties.

It is the earliest of bellwethers for the 2010 election cycle and has taken on the same kind of significance as the three Democratic special election takeovers of 2008.

Both sides now say the race is within the margin of error, and neither is backing down from its ownership of the result.
The whole story is worth a read. And click

here

for our ongoing coverage of the developments in the race on the BBR.

This e-mail address is being protected from spambots. You need JavaScript enabled to view it

Archived under:

News, News/Campaigns, News/Campaigns/Congressional Campaigns
March 14, 2009, 9:12 am

By

Here's a strategy you're likely to see more of from the Democrats: labeling the GOP as the "party of no."

The Democratic National Committee launched a

website

this week that says just that and includes a clock that counts the time from when President Obama delivered the outline for his $3.55 trillion budget. The point, the website says, is that Republicans have yet to offer an alternative proposal. Instead, they have only criticized Obama's plan.

This isn't the first time Democrats have

used the tactic

and it won't be the last.

This e-mail address is being protected from spambots. You need JavaScript enabled to view it

Archived under:

News, News/Campaigns, News/Lawmaker News, News/Lawmaker News/Administration
March 14, 2009, 7:13 am
By
This seems like sort of a big deal, or at least potential material for political salvos: After claiming he is a lifelong Bronx resident, Rep. Eliot Engel (D-N.Y.) has listed his house in Maryland as his primary residence for at least 10 years to get a tax break.
And now that its come to light, Maryland officials are saying that Engel doesn't qualify for the tax credits.
From the Associated Press
:
To receive the credit, homeowners must live in Maryland at least six months of the year, have a Maryland driver
Archived under:

News, News/Lawmaker News