June 25, 2008, 9:59 am

By

The Government Accountability Office Wednesday released the

full report

of its decision to sustain Boeing's protest over the Air Force's refueling award to Northrop Grumman

Archived under:

News, News/Lawmaker News, News/Lawmaker News/Defense, News/Lawmaker News/Lobbyists, News/Lawmaker News/Trade and Agriculture
June 25, 2008, 9:07 am
By
John McCain beat Barack Obama by a margin of 25 percentage points when Gallup asked Americans whether each candidate could handle the responsibilities of commander in chief of the U.S. military.
Gallup
reported today
that 80 percent think McCain can handle the job, while 55 percent think Obama can.
Obama also faces a disadvantage in negative responses: 40 percent said Obama could not handle the responsibilities of commander in chief, while 17 percent said McCain could not.
Gallup polled 1,625 Americans aged 18 or older June 15-19 for the study.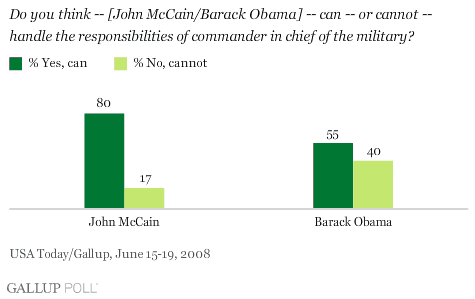 Archived under:

News, News/Campaigns, News/Campaigns/Defense, News/Campaigns/Homeland Security, News/Campaigns/Presidential Campaigns
June 25, 2008, 8:46 am

By

John McCain's surrogates are referring to Barack Obama as "Dr. No" for opposing McCain's call for more domestic offshore oil drilling and 45 new nuclear power plants.

"[C]ontrasted with Sen. McCain's balanced approach to more production and less use, you have Dr. No," said Sen. Jon Kyl (R-Ariz.) on a McCain campaign conference call Wednesday. Kyl said that Dr. No is a play on Obama's phrase, 'Yes, We can.'

Kyl said that when it comes to new approaches to energy sources, Obama is saying, "No, we can't drill off-shore. No, we can't go to the deep waters of the Gulf of Mexico. No, we can't do oil shale."

Kyl continued: "Of course, he's said he's not a proponent of nuclear, so, no, we can't do that. And he's even said, no, we shouldn't do the reward for the technology improvement for a battery that would allow people to use those kind of vehicles."

"Dr. No" is also the name of the first "James Bond"

film

, whose villain, Dr. Julius No, conceived of a plot to disrupt American rocket tests.

Brian Rogers, a McCain spokesman, repeated the "Dr. No" talking point when hitting Obama for dismissing McCain's proposal to award $300 million to the developer of a car battery that leads to greenhouse gas emissions reductions.

"[N]othing really points out Sen. Obama's Dr. No attitude toward energy security than his comments yesterday calling this a 'gimmick,'" Rogers said on the conference call.

Archived under:

News, News/Campaigns, News/Campaigns/Presidential Campaigns
June 25, 2008, 7:55 am

By

Sen. Hillary Rodham Clinton (D-N.Y.) issued a statement Wednesday thanking Barack Obama for

asking his donors

to help cover some of her campaign debts.

"Senator Clinton appreciates Senator Obama's generous efforts and is continuing her efforts to raise the monies he needs to ensure a victory in November," the statement says.

Clinton also sent an email to supporters of her campaign, asking for funds to help ease the debt.

"As you know, I had to loan money to my campaign at critical moments. I'm not asking for anyone's help to pay that back. That was my investment and my commitment because I believe so deeply in our cause," Clinton wrote.

"But I do need your help paying the debts we accrued to others over the course of this campaign. We put everything we had into winning this race, and we came just about as close as you can."

Archived under:

News, News/Campaigns, News/Campaigns/Presidential Campaigns
June 25, 2008, 7:54 am

By

Sen. Lindsey Graham (R-S.C.), one of John McCain's closest allies, said that the United States should look to France and try to develop nuclear power to help clean up the environment and reduce demand for oil.

"It's ridiculous that America cannot proceed with nuclear power," Graham said on Fox News on Wednesday."We should follow the French model of storage and recycling."

Graham noted that while McCain has proposed building 45 new nuclear power plants, his Democratic opponent for the presidency, Barack Obama, has espoused building more coal-fired plants.

"[Obama] gives lip service to nuclear power, but the environmental left -- the anti-nuclear left has stymied his platform," Graham said.

The Republican suggested that Obama look at the French nuclear power program, which provides most of the country's power, when he visits Europe.

"Surely we can be as bold as the French," said Graham. "They know what they're doing. They have a very mature nuclear program."

Graham said that his state, South Carolina, would be willing to show how to recycle spent nuclear fuel, the disposal of which has been a concern of environmental groups.

"So we need to deal with the waste," Graham said. "And Obama doesn't want to address the waste because the hard left really is anti-nuclear."



Archived under:

Energy & Environment, News, News/Campaigns, News/Campaigns/Presidential Campaigns
June 25, 2008, 7:38 am

By

Despite any bad blood that may exist between Barack Obama and the Clintons, Obama says the two camps will have to put it behind them in order for him to win in November.

"I am going to need them," Obama said in an interview on

CNN

Wednesday, saying he envisions both Clintons campaigning "actively" in support of him and other Democrats.

Obama said he and the Clintons will be "working closely together over the next couple of weeks."

Both camps have been making public and private efforts recently to heal wounds caused by the primary.

Sen. Hillary Rodham Clinton (D-N.Y.) is holding a closed door meeting with her supporters in the House Wednesday to help rally fractured Democrats around Obama. Former President Bill Clinton is also trying to make amends, releasing his first statement of support for Obama Tuesday.

Obama in turn

asked his top donors

Tuesday to help cover the more the $10 million in debt the Clinton's owe to vendors.

Obama and Sen. Clinton will make their first joint campaign appearance Friday in Unity, N.H.

The Illinois senator heavily praised the Clinton's during the interview, calling former President Clinton "one of the most intelligent, charismatic political leaders that we have seen in a generation." Obama called Sen. Clinton a "larger than life figure in Democratic politics" and said she will be one of his "key partners" on issue like healthcare.

Archived under:

News, News/Campaigns, News/Campaigns/Presidential Campaigns
June 25, 2008, 7:08 am

By

The Republican National Committee (RNC) alleged today that former Deputy Attorney General Eric Holder, a member of Barack Obama's vice presidential search committee, participated in the pardon of one former Weather Underground member and the commutation of another's prison sentence, revealing Obama's hypocrisy in criticizing Sen. Hillary Rodham Clinton (D-N.Y.) for her husband's extension of clemency to the two radicals.

In an April Democratic debate, Obama deflected Clinton's attacks on his relationship with former Weather Underground member William Ayers by noting that her husband, President Bill Clinton, pardoned one member of the group and commuted the sentence of another.

"[B]y Senator Clinton's own vetting standards, I don't think she would make it," Obama said, "since President Clinton pardoned or commuted the sentences of two members of the Weather Underground, which I think is a slightly more significant act than me serving on a board with somebody for actions that he did 40 years ago." Read more...

Archived under:

News, News/Campaigns, News/Campaigns/Presidential Campaigns
June 25, 2008, 6:44 am

By

The Supreme Court held Wednesday in a 5-4 decision that people convicted of raping children should not be subject to the death penalty.

The court rejected a Louisiana law allowing the death penalty for those convicted of raping children aged 12 and younger.

Justice Anthony Kennedy in writing the majority opinion said the death penalty was "not a proportional punishment for the rape of a child." Kennedy was joined by the courts four liberal voices.

The decision will likely become an issue on the campaign trail as the John McCain campaign has been recently trying to hit Barack Obama on the issue of judges. Following the court's decision granting habeas corpus right to accused terrorists being held at Guantanamo Bay, the McCain camp hosted a conference call with reporters led by former Sen. Fred Thompson (R-Tenn.) attacking Obama's support for the decision.

Thompson called that decision "

another example of the Supreme Court making policy," and said, "

if you want a Supreme Court that makes policy, choose Obama."

Archived under:

News, News/Campaigns, News/Campaigns/Civil Rights, News/Campaigns/Presidential Campaigns
June 25, 2008, 5:27 am

By

The Justice Department illegally favored conservative candidates for its entry-level honors program, according to a new report by the department's own inspector general and ethics office.

The report, released Tuesday, found that a group working under Attorney General John Ashcroft in 2002 allowed political appointees to take over the screening committee responsible for interviewing and selecting candidates. In the past, the less partisan career department employees had run the selection process.

Download the

report

here.

Archived under:

News, News/Oversight, News/Oversight/Administration
June 24, 2008, 5:51 pm

By

ABC News

reports that Barack Obama asked top contributors Tuesday to help Sen. Hillary Rodham Clinton (D-N.Y.) retire her record presidential campaign debt.

Clinton will appear at an Obama fundriaser Thursday ahead of her first joint campaign appearance with Obama Friday in Unity, N.H.

Archived under:

News, News/Campaigns, News/Campaigns/Presidential Campaigns
Briefing Room Blog Topics
Get latest news from The Hill direct to your inbox, RSS reader and mobile devices.