June 25, 2008, 11:36 am
By
John McCain suggested in a
People
magazine interview that he's open to selecting a woman as a running mate.
When a reporter pointed out there weren't any women veep possibilities at a recent event at McCain's ranch, the Republican said, "One, it was a social weekend, and two, not necessarily."
McCain pointed out that former eBay CEO Meg Whitman was at the event, which was also attended by possible vice presidential picks Mitt Romney (R-Mass.), Florida Gov. Charlie Crist (R) and Louisiana Gov. Bobby Jindal (R).
Download more of McCain's interview
here
and read more below. The interview appears in the magazine that goes on stands this Friday.
Whats the last romantic thing you've done for her [Cindy]?

Lets see. Over the weekend we ordered out, which was nice. Chinese. Didn't have to entertain anybody. Didn't have to have a political conversation. Didn't have to ask for money.

You' re not a flowers and diamonds kind of guy?

You know, I have not missed one of those occasions because I'm very blessed to have staff that reminds me [laughs].

What do you splurge on?

Coffee, newspapers, books. I stop in bookstores whenever I can. But I don't have a lot of expensive tastes and cant think of anything that Ive spent a lot of money on.

You've gotten Heidi Montag's endorsement. Who are you working on next?

Were most pleased by Wilfred Brimley [laughs]. You know, I hadn't thought about the question, but since I like Jack Bauer so much, Kiefer Sutherland. I doubt he would be on board; hes probably already selected Senator Obama. I'm a big "24" fan.

Whats the last movie you saw?

"Indiana Jones." I really loved the movie because the old guy wins.
Archived under:

News, News/Campaigns, News/Campaigns/Presidential Campaigns
June 25, 2008, 11:20 am

By

Rep. Don Young (R-Alaska), the master of earmarks who has been targeted by Democrats and criticized by Republicans, sat down for a interview with The Hill

Archived under:

News, News/Lawmaker News
June 25, 2008, 11:07 am

By

Former White House press secretary Scott McClellan sees a lot a similarities between Barack Obama's campaign and the presidential campaign of then Governor George W. Bush eight years ago.

Obama's campaign "has a theme that is very similar to the one this president ran on," McClellan said during an address in San Francisco. McClellan explained that, like Bush in 2000, Obama is running on change and portrays himself as a bipartisan promising to work across the aisle in order to get things done.

McClellan said many of Obama's themes are the same that originally attracted him to working for Bush.

Bush

echoed McClellan's sentiments

earlier this month ahead of his trip to Europe.

"I mean, they say, 'we want change,'" Bush said. "And I tell people every time I ran for politics I said, 'we want change.'"

Archived under:

News, News/Campaigns, News/Campaigns/Presidential Campaigns
June 25, 2008, 11:05 am

By

Barack Obama launched a

new website

dedicated to energy policy today, seeking to separate his proposals from John McCain's.

The site features a side-by-side comparison of Obama's energy stances to McCain's and tells readers they have the choice to "go big" with Obama's policies or "rely on" McCain's coastal drilling proposal.

"We can either 'go big' and follow Barack Obama

Archived under:

Energy & Environment, News, News/Campaigns, News/Campaigns/Presidential Campaigns
June 25, 2008, 10:14 am
By
John McCain, who has been laying out his energy proposals over the past week, is now referring to his plans as "The Lexington Project."
The project, aimed at reducing the country's independence on foreign oil, includes his calls for more nuclear power plants, a $300 million prize to the developer of an innovative car battery, more offshore oil drilling, and mandatory caps on greenhouse gas emissions.
Here's the part of his speech Wednesday in which he first mentions The Lexington Project:
In recent days I have set before the American people an energy plan, the Lexington Project -- named for the town where Americans asserted their independence once before. And let it begin today with this commitment: In a world of hostile and unstable suppliers of oil, this nation will achieve strategic independence by 2025.

This pledge is addressed to all concerned -- to those abroad whose power flows from an accident of geology, and to you, my fellow Americans, whose strength proceeds from unity of purpose. Together, we will break the power of OPEC over the United States. And never again will we leave our vital interests at the mercy of any foreign power.

Some will say this goal is unattainable within that relatively short span of years -- it's too hard and we need more time. Let me remind them that in the space of half that time -- about eight years -- this nation conceived and carried out a plan to take three Americans to the Moon and bring them safely home. In less than a third of that time, the gathered energies of my father's generation built the industrial might that overcame Nazi Germany and imperial Japan. That is the scale of our achievement when we set our minds to a task. That is what this country can do when we see a danger, and declare a purpose, and find the will to act.
Archived under:

News, News/Campaigns, News/Campaigns/Presidential Campaigns
June 25, 2008, 10:00 am

By

House Minority Leader John Boehner (R-Ohio) called for hearings on the Countrywide Financial program that gave mortgages to Sens. Chris Dodd (D-Conn.) and Kent Conrad (D-N.D.).

Both Dodd and Conrad received mortgages through the Friends of Angelo program, named after Countrywide CEO Angelo Mozilo.

"Before the House moves forward on a massive housing bailout at the expense of every American taxpayer, there are significant questions that must be answered about the Friends of Angelo program and the sweetheart loans provided to key Democratic lawmakers," Boehner said in a statement. "[House Financial Services Committee] Chairman [Barney] Frank (D-Mass.) and [House] Speaker [Nancy] Pelosi (D-Calif.) should begin immediate hearings to examine the special VIP housing perks that Countrywide gave powerful congressional Democrats at the same time it was hiking mortgage rates on American families. I am also concerned by news reports suggesting that banks wrote the bailout provisions of this bill to allow them to cherry-pick the mortgages that are least likely to be repaid and dump the debt on taxpayers. Surely Democrats in Congress believe our highest responsibility is to the American people, not their campaign contributors."

Boehner also noted a

report

in the Washington Post revealing that banks worked with Democrats to write parts of the $300 billion housing bailout bill, which is now before the Senate.

"[D]emocrats who receive sweetheart deals from their campaign contributors shouldnt be pushing legislation forcing taxpayers to bankroll a $300 billion bailout of scam artists and speculators, and the American people have every right to demand answers if they do," Boehner said in his statement.

Download a copy of Boehner's letter to Frank

here

.

Archived under:

News, News/Oversight, News/Oversight/Corporate Governance
June 25, 2008, 9:59 am

By

The Government Accountability Office Wednesday released the

full report

of its decision to sustain Boeing's protest over the Air Force's refueling award to Northrop Grumman

Archived under:

News, News/Lawmaker News, News/Lawmaker News/Defense, News/Lawmaker News/Lobbyists, News/Lawmaker News/Trade and Agriculture
June 25, 2008, 9:07 am
By
John McCain beat Barack Obama by a margin of 25 percentage points when Gallup asked Americans whether each candidate could handle the responsibilities of commander in chief of the U.S. military.
Gallup
reported today
that 80 percent think McCain can handle the job, while 55 percent think Obama can.
Obama also faces a disadvantage in negative responses: 40 percent said Obama could not handle the responsibilities of commander in chief, while 17 percent said McCain could not.
Gallup polled 1,625 Americans aged 18 or older June 15-19 for the study.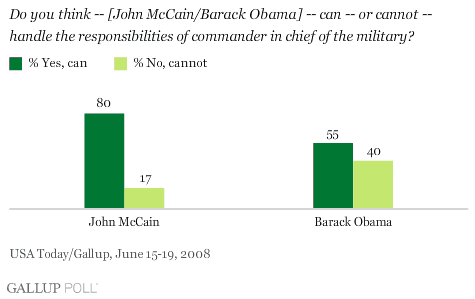 Archived under:

News, News/Campaigns, News/Campaigns/Defense, News/Campaigns/Homeland Security, News/Campaigns/Presidential Campaigns
June 25, 2008, 8:46 am

By

John McCain's surrogates are referring to Barack Obama as "Dr. No" for opposing McCain's call for more domestic offshore oil drilling and 45 new nuclear power plants.

"[C]ontrasted with Sen. McCain's balanced approach to more production and less use, you have Dr. No," said Sen. Jon Kyl (R-Ariz.) on a McCain campaign conference call Wednesday. Kyl said that Dr. No is a play on Obama's phrase, 'Yes, We can.'

Kyl said that when it comes to new approaches to energy sources, Obama is saying, "No, we can't drill off-shore. No, we can't go to the deep waters of the Gulf of Mexico. No, we can't do oil shale."

Kyl continued: "Of course, he's said he's not a proponent of nuclear, so, no, we can't do that. And he's even said, no, we shouldn't do the reward for the technology improvement for a battery that would allow people to use those kind of vehicles."

"Dr. No" is also the name of the first "James Bond"

film

, whose villain, Dr. Julius No, conceived of a plot to disrupt American rocket tests.

Brian Rogers, a McCain spokesman, repeated the "Dr. No" talking point when hitting Obama for dismissing McCain's proposal to award $300 million to the developer of a car battery that leads to greenhouse gas emissions reductions.

"[N]othing really points out Sen. Obama's Dr. No attitude toward energy security than his comments yesterday calling this a 'gimmick,'" Rogers said on the conference call.

Archived under:

News, News/Campaigns, News/Campaigns/Presidential Campaigns
June 25, 2008, 7:55 am

By

Sen. Hillary Rodham Clinton (D-N.Y.) issued a statement Wednesday thanking Barack Obama for

asking his donors

to help cover some of her campaign debts.

"Senator Clinton appreciates Senator Obama's generous efforts and is continuing her efforts to raise the monies he needs to ensure a victory in November," the statement says.

Clinton also sent an email to supporters of her campaign, asking for funds to help ease the debt.

"As you know, I had to loan money to my campaign at critical moments. I'm not asking for anyone's help to pay that back. That was my investment and my commitment because I believe so deeply in our cause," Clinton wrote.

"But I do need your help paying the debts we accrued to others over the course of this campaign. We put everything we had into winning this race, and we came just about as close as you can."

Archived under:

News, News/Campaigns, News/Campaigns/Presidential Campaigns
Briefing Room Blog Topics
Get latest news from The Hill direct to your inbox, RSS reader and mobile devices.