© Greg Nash
Republican presidential front-runner Donald Trump
Donald TrumpEx-DOJ official Rosenstein says he was not aware of subpoena targeting Democrats: report Ex-Biden adviser says Birx told him she hoped election turned out 'a certain way' Cheney rips Arizona election audit: 'It is an effort to subvert democracy' MORE made several spelling errors in a series of tweets Friday morning about the previous night's debate, in which he was attacked by his rivals Marco Rubio
Marco Antonio RubioFive years after the Pulse nightclub massacre the fight for LGBTQ+ rights continues Rubio calls on Biden to 'forcefully' confront Iran over movement of war ships Bipartisan lawmakers want Biden to take tougher action on Nicaragua MORE and Ted Cruz
Rafael (Ted) Edward CruzBiden tries to erase Trump's 'America First' on world stage Cotton, Pentagon chief tangle over diversity training in military GOP senators press Justice Department to compare protest arrests to Capitol riot MORE.
Trump hit back at the two senators, calling Cruz a liar and a loser, and accusing Rubio of being a lightweight choker. However, he stumbled over the spelling of the latter insult. He also misspelled "honor."
Trump later deleted the tweets and reposted them without the errors, but not before they were caught and saved by Twitter users.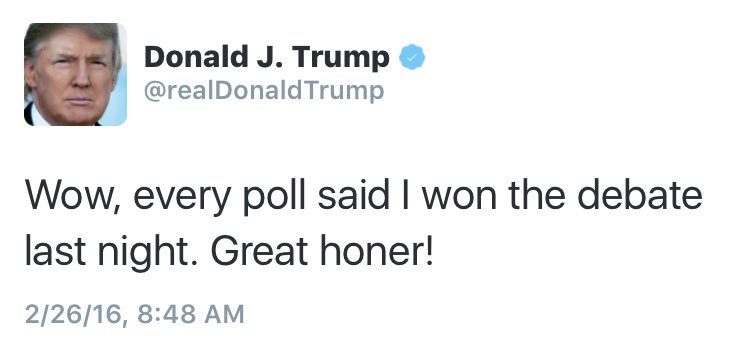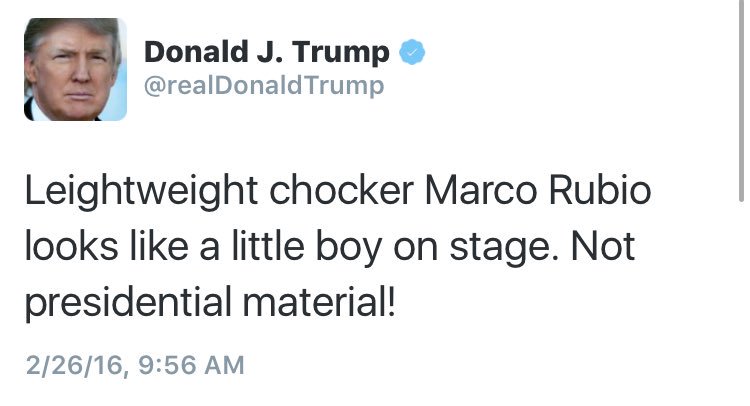 Lightweight Marco Rubio was working hard last night. The problem is, he is a choker, and once a choker, always a chocker! Mr. Meltdown.

— Donald J. Trump (@realDonaldTrump) February 26, 2016
honer: one that hones (https://t.co/76PlKG8PA6)
leightweight: We have no. idea.
chocker: https://t.co/geeDMqiS4D https://t.co/2km86hZAVQ

— Merriam-Webster (@MerriamWebster) February 26, 2016
Cruz and Rubio went all out against the business mogul Thursday night, hoping to knock him out of the top spot in the polls before Super Tuesday on March 1.
- Updated at 11:25 a.m.