OK, so the uptick in numbers isn't huge and, in both cases, it is right at the margin of error, but two tracking polls show that President Obama's approval rating is climbing after his first 100 days in office.
The latest
Gallup tracking poll
, released Monday morning, found that 66 percent of Americans approve of Obama's performance. That's up from the 63 percent average from January through April. On the May 3 Gallup tracking poll, Obama registered 68 percent.
Take a look at Gallup's graph and it is pretty clear Obama's approval is now higher than it was last month.
Meanwhile, over at
Rasmussen
where Obama's numbers have been typically lower, 58 percent now approve of Obama's performance. That's up from 54 percent about a week ago and is about 3 points higher than Obama was registering in mid-April.
And, looking at the chart below, the gap between those who strongly approve of his performance and those who strongly disapprove appears to have widened.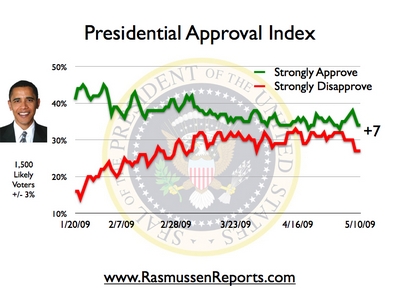 Gallup also started the reelection discussion (maybe a little too early?). They found that a quarter of respondents said they would definitely vote for Obama in 2012. About another quarter said they would probably vote for Obama while another quarter said they would definitely not vote for him.
Here is a party breakdown to that question:
There was a margin of error of plus or minus 3 percent in both the Gallup poll and the Rasmussen poll.
jeremy.jacobs@thehill.com