To view past editions of The Hill's 12:30 Report, click here: http://bit.ly/1M1mIfw
To receive The Hill's 12:30 Report in your inbox, please sign up here: http://bit.ly/1Tt4hqN
--> A midday take on what's happening in politics and how to have a sense of humor about it.*
*Ha. Haha. Hahah. Sniff. Haha. Sniff. Ha--breaks down crying hysterically.
The Hill's 12:30 Report: Falling Trump approval worries GOP | Poll finds Dems up 14 on generic House ballot | 10 Senate seats most likely to flip | Florence nears Carolinas | Storm slows down, raising risk of flooding | Trump touts Puerto Rico response | FEMA failed to distribute millions of water bottles | DC postpones H Street Festival | Apple product launch showcase today
LATEST WITH HURRICANE FLORENCE
We all have to go with the Flo:
Via The Weather Channel, Hurricane Florence is now expected to slow down along the coast of the Carolinas, which will lead to significant flooding. https://wxch.nl/2N8LPu2
WHAT TO KNOW: 
Bookmark this forecast page: Sick of all the complicated graphics? Here's an easy-to-read forecast directly from the National Hurricane Center. The latest forecast from NOAA.gov: http://bit.ly/2Ob596o
Map of the hurricane evacuation zones in Virginia and Maryland: Basically, anywhere near water. The map: http://bit.ly/2COti1g
D.C. has declared a state of emergency: What to expect near the District: https://wapo.st/2Mks7pS
Maryland Task Force 1 is deploying to South Carolina: Video of the search and rescue unit preparing and loading their materials: http://bit.ly/2NzU7uq
What about the wild horses that live in the Outer Banks?: Don't worry. Wildlife experts say the horses have lived there for 500 years and are prepared to deal with bad storms. Details -- it's pretty interesting: http://bit.ly/2NIBxQV
Tidbit -- if you're curious what Rush Limbaugh thinks about the hurricane...: "Rush Limbaugh on Hurricane Florence: 'The forecast and the destruction potential doom and gloom is all to heighten the belief in climate change.' " Watch: http://bit.ly/2p2K7Mh
Logistics -- how to prepare for the hurricane: The New York Times has a helpful list of what to do and think about before a hurricane. The checklist of how to prepare: https://nyti.ms/2Qu66Iy
Public WiFi during the storm: Xfinity is opening its WiFi hotspots to the public during the hurricane. The text alert: http://bit.ly/2MnEilH
It's an eerie Wednesday in the DMV before the hurricane hits. I'm really looking forward to seeing the sun again. I'm Cate Martel with a quick recap of the morning and what's coming up. Send comments, story ideas and events for our radar to cmartel@thehill.com, @CateMartel and on Facebook. 
T-MINUS TWO MONTHS UNTIL THE MIDTERMS
Now get out there and show me those pearly whites: 
Via The Hill's Jordan Fabian, President Trump
Donald John TrumpJustice Department preparing for Mueller report as soon as next week: reports Smollett lawyers declare 'Empire' star innocent Pelosi asks members to support resolution against emergency declaration MORE's approval rating has been falling in recent polls, which is worrying Republicans that an already dire election season is getting worse. The feeling in the White House: "Inside the White House, officials have long acknowledged there is a good chance the House could change hands in November. But they privately scoff at predictions of certain doom and gloom for Republicans, pointing to Trump's surprise victory in the 2016 presidential election despite his poor favorability ratings." The optimism in the White House: Trump's approval has sunk before, but always rebounds in a short period of time. How this could play out in November: http://bit.ly/2CObrHN
HERE'S A RANKING OF THE 10 SENATE SEATS MOST LIKELY TO FLIP: http://bit.ly/2NCYWTt
NEW POLL -- DEMS LEAD BY 14: According to a new Quinnipiac poll, Democrats hold a 14-point advantage in a generic House ballot. The numbers: 52 percent of American voters favor Democrats in the upcoming midterms; 38 percent back Republicans. More from the poll: http://bit.ly/2CPJgs5
POWERFUL 2018 VOTERS -- WOMEN ENERGIZED BY 'ME TOO': Via The Hill's Melanie Zanona, "College-educated women energized by the 'Me Too' movement and annoyed by President Trump are increasingly being seen as a problem for Republicans in this year's election season, particularly in the House." http://bit.ly/2QqbDzU
THE REPUBLICAN STRATEGY TO CONVINCE VOTERS: Via The Hill's Reid Wilson in Tucson, Ariz., "Republican candidates across the country, from this city 60 miles north of the border to states like North Dakota and Georgia, are warning voters that both crime and immigration are likely to spike if their Democratic opponents win office in November." http://bit.ly/2p39EVm
IN LOCAL NEWS
The H Street Festival has been postponed: 
Via PoPville, the annual H Street Festival in Washington, D.C., has been postponed because of the weather. The new date: Saturday, Oct. 13, from noon to 7 p.m. Details: http://bit.ly/2x98USr
IN OTHER NEWS
The president gives out A-pluses like Oprah's giveaways: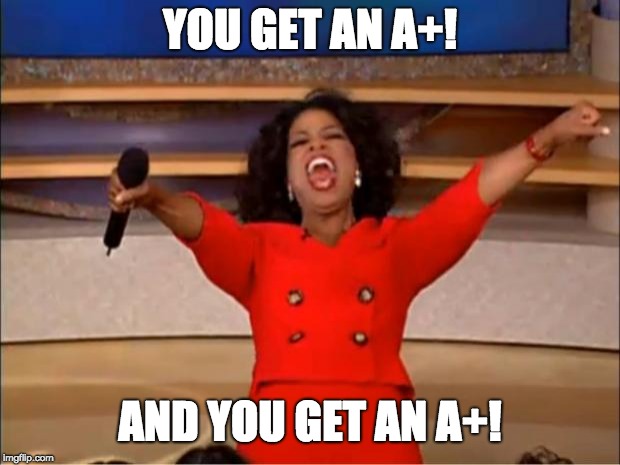 This morning, President Trump doubled down on his defense of the federal response to Hurricane Maria in Puerto Rico. 
He tweeted: "We got A Pluses for our recent hurricane work in Texas and Florida (and did an unappreciated great job in Puerto Rico, even though an inaccessible island with very poor electricity and a totally incompetent Mayor of San Juan). We are ready for the big one that is coming!" 
WHAT SPARKED THIS TWEET: During the president's remarks yesterday about preparing for Hurricane Florence, President Trump called the response to Hurricane Maria "an incredible, unsung success." Keep in mind: Maria reportedly killed nearly 3,000 people. Then: The mayor of San Juan, Puerto Rico, tweeted back, "Success? ... If he thinks the death of 3,000 people [is] a success God help us all." http://bit.ly/2O9ata5
NEW DETAIL FROM PUERTO RICO -- OOOPH: "The Federal Emergency Management Agency (FEMA) said this week that millions of water bottles meant for victims of Hurricane Maria have been left undistributed at an airport in Puerto Rico for more than a year." Photos of the millions of undistributed water bottles: http://bit.ly/2ObfW0o
NOTABLE TWEETS
This post is about the rescue dogs on 9/11: 
I can't stop thinking about this pic.twitter.com/EvqsfNvaR2

— Betsy Klein (@betsy_klein) September 12, 2018
Full size photos: http://bit.ly/2Qpdkxq
So. Much. Caviar.: 
Vladimir Putin and Xi Jinping visited Far East Street exhibition held on the sidelines of #EEF2018 https://t.co/XBiup1GpGf pic.twitter.com/YthPMuGplP

— President of Russia (@KremlinRussia_E) September 11, 2018
Full size photos: http://bit.ly/2O8Uw3H
ON TAP
The House is in. The Senate is meeting later today. President Trump is in Washington, D.C., and Vice President Pence is in Grand Rapids, Mich., this afternoon.
11:30 a.m. EDT: President Trump receives an intelligence briefing.
12:30 p.m. EDT: President Trump has lunch with Secretary of State Mike Pompeo
Michael (Mike) Richard PompeoOvernight Defense: Graham clashed with Pentagon chief over Syria | Talk grows that Trump will fire Coats | Coast Guard officer accused of domestic terrorism plot Sean Spicer joins 'Extra' as 'special DC correspondent' Trump, Pompeo: Alabama woman who joined ISIS cannot return to US MORE.
12:55 p.m. EDT: Vice President Pence and Karen Pence
Karen Sue PenceThe Hill's 12:30 Report — Presented by Kidney Care Partners — Trump escalates border fight with emergency declaration The Hill's Morning Report — Presented by the American Academy of HIV Medicine — Trump, Congress prepare for new border wall fight The Hill's 12:30 Report — Presented by Kidney Care Partners — Lawmakers wait for Trump's next move on border deal MORE arrive in Grand Rapids, Mich., and tour the Mill Steel Company.
2:05 p.m. EDT: Vice President Pence speaks at the Mill Steel Company in Michigan.
3 p.m. EDT: The Senate meets.
4:45 p.m. EDT: Speaker Paul Ryan
Paul Davis RyanThe Hill's 12:30 Report: Sanders set to shake up 2020 race McCabe: No one in 'Gang of Eight' objected to FBI probe into Trump Unscripted Trump keeps audience guessing in Rose Garden MORE (R-Wis.) participates in a Q&A with WisPolitics. Details: http://bit.ly/2x7hHVN
5:30 p.m. EDT: The Senate has a procedural vote on a nomination.
5:35 p.m. EDT: Vice President Pence and Karen Pence arrive back in Washington, D.C.
6:30 p.m. EDT: Votes postponed in the House.
7:15 p.m. EDT: President Trump meets with supporters and speaks at a dinner in Washington, D.C.
7:55 p.m. EDT: President Trump gets back to the White House.
No longer happening Friday: The Washington Post's space summit, which was scheduled for Friday, has been postponed because of the hurricane. A new date will be announced shortly. https://wapo.st/2QnVwTa
WHAT TO WATCH
1 p.m. EDT: Apple is holding its annual product showcase to unveil new products. Think: New iPhones, Apple Watch and AirPods. What to expect from The Wall Street Journal: https://on.wsj.com/2x6m172 Livestream: https://apple.co/2x77Mi1
5:30 p.m. EDT: President Trump speaks at the Congressional Medal of Honor Society Reception in the East Room of the White House. Livestream: http://bit.ly/2N5lVHs
8 p.m. EDT: The United Service Organizations (USO) is holding the "World's Biggest USO Tour" at The Anthem in Washington, D.C. Featured performers: Florida Georgia Line, actor-comedian Adam Devine and celebrity chef Robert Irvine. Details and livestream: http://bit.ly/2MobObG
NOW FOR THE FUN STUFF...
Today is National Chocolate Milkshake Day.
Someone should have told this woman that O.J. Simpson wasn't the best model for detailing a hypothetical murder: 
Nancy Crampton-Brophy, the novelist who wrote "How To Murder Your Husband," has been arrested for ... allegedly murdering her husband of 26 years. Oh and: "Crampton-Brophy has since made her now-famous essay 'How To Murder Your Husband' private. It was published on the See Jane Publish blog and reportedly included sections on motives and possible weapons." The facial expression in her mug shot: http://bit.ly/2OdCiyl
They hit the jackpot:
Via ABC News's Mark Osborne, "Hundreds of gold coins dating from Rome's late Imperial era, the 4th or 5th century, were found Friday at a dig in Como, Italy." 
Photos -- this is pretty cool: https://abcn.ws/2OdTHa5
And because you made it this far, here's a family who pranks a young girl into thinking a magic trick made her disappear: http://bit.ly/2QrCWtA