To view past editions of The Hill's 12:30 Report, click here: http://bit.ly/1M1mIfw
To receive The Hill's 12:30 Report in your inbox, please sign up here: http://bit.ly/1Tt4hqN
--> A midday take on what's happening in politics and how to have a sense of humor about it.*
*Ha. Haha. Hahah. Sniff. Haha. Sniff. Ha--breaks down crying hysterically.
The Hill's 12:30 Report: Latest as shutdown nears | Trump now says Dems to blame for shutdown | Senate to vote on House bill | GOP rejects calls to go 'nuclear' on wall funding | Ginsburg undergoes lung surgery to remove cancerous growths | Fallout from Mattis resignation | McConnell 'distressed' by exit | 'Fox and Friends' host questions Syria withdrawal | GoFundMe campaign raises money for wall | Impromptu 'Friends' reunion (!)
NEWS THIS MORNING
To the tune of Jingle Bells...
'Oh what fun is to blame the Dems on shutdown day, hey!':
How I imagine aides holding back President Trump
Donald John TrumpTrump: 'I will not let Iran have nuclear weapons' Rocket attack hits Baghdad's Green Zone amid escalating tensions: reports Buttigieg on Trump tweets: 'I don't care' MORE today.
President Trump changed his tune this morning from saying he would be "proud" to accept blame for the shutdown to blaming Democrats. http://bit.ly/2A8Pm32
He tweeted: "The Democrats now own the shutdown!!" I.e.: Please disregard anything I might have previously said.  
Another part of his Twitter rampage: Trump urged Senate Majority Leader Mitch McConnell
Addison (Mitch) Mitchell McConnellBolton emerges as flashpoint in GOP debate on Iran On The Money: Treasury rejects Dem subpoena for Trump tax returns | Companies warn trade war about to hit consumers | Congress, White House to launch budget talks next week | Trump gets deal to lift steel tariffs on Mexico, Canada Schumer calls on McConnell to hold vote on Equality Act MORE (R-Ky.) to do whatever needed to pass the bill, including ending the legislative filibuster. "Mitch, use the Nuclear Option and get it done! Our Country is counting on you," Trump tweeted. Read the full tweets: http://bit.ly/2RaKa8d
REACTION FROM SENATE REPUBLICANS -- NO.: Senate Republicans quickly rejected Trump's call for the nuclear option. What that would entail: Changing the Senate rules to push through Trump's border wall funding with just 51 votes instead of 60. http://bit.ly/2SjVi0c
HAPPENING THIS MORNING -- OH TO BE A FLY ON THAT WALL: Senate Republicans met with President Trump in the White House. http://bit.ly/2Ra6mzl
What to expect: "Senate [is] expected to hold vote on whether to take up House funding bill with wall money, which needs 50 yes votes. With absences and frustration with Trump, both sides skeptical it'll get 50. But if they get on bill, they'll need 60 to break filibuster, which won't happen." (Via CNN's Manu Raju) http://bit.ly/2BCkjw7 Note: 50 "yes" votes would allow Vice President Pence to cast the tie-breaking vote.
Just now -- so are we thinking a subtle light dimmer around 11:59 or a dramatic switch at midnight sharp?: 
Here is what the key players had to say after President Trump's meeting with Senate Republicans.
Trump just told reporters: The chances of a shutdown are "very good." http://bit.ly/2S9YMCk
Trump on how long the shutdown might last: "we're very prepared for a long shutdown." http://bit.ly/2T1BheA
From Senate Majority Leader Mitch McConnell (R-Ky.) after the White House meeting: "We're going to continue to talk this afternoon... and we're going to move forward with the process on the House passed bill." http://bit.ly/2PULTtP
From Schumer on the Senate floor: "This may have been the most chaotic week of what's undoubtedly the most chaotic presidency ever in the history of the United States." http://bit.ly/2CshsHL
Schumer also added: "you won't get your wall."
Hmmmm: 
"[Senate Majority Whip John Cornyn
John CornynTrump's immigration push faces Capitol Hill buzzsaw The Hill's Morning Report - Presented by Pass USMCA Coalition - Restrictive state abortion laws ignite fiery 2020 debate Sinema, Gallagher fastest lawmakers in charity race MORE (R-Texas)]: 'I'm not going to tell you all of our secret plans'
[CNN's Manu Raju]: 'Is it because you're making it up as you go?' 
Cornyn: 'Well, there's that. There's also some other ideas.' " http://bit.ly/2EHcGZu
Happy Friday before the Christmas break! Now can someone please remind two of our three branches of government? I'm Cate Martel with a quick recap of the morning and what's coming up. Send comments, story ideas and events for our radar to cmartel@thehill.com -- and follow along on Twitter @CateMartel and Facebook.
Did someone forward this to you? Want your own copy? Sign up here to receive The Hill's 12:30 Report in your inbox daily: http://bit.ly/2kjMNnn
Programming note: The Hill's 12:30 Report will be off next week for the holidays and will return after the new year. Merry Christmas!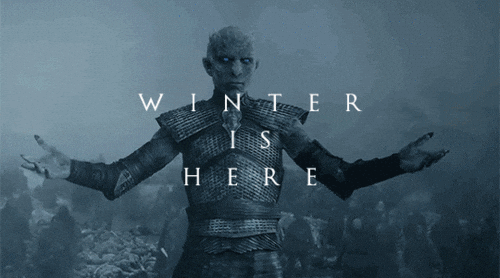 Today is officially the first day of winter, in more ways than one…
BREAKING
RBG just had surgery:
Via CNN's Dan Berman, "Justice Ruth Bader Ginsburg had two malignant nodules removed from her left lung Friday at a New York hospital, the Supreme Court announced. There is no evidence of any remaining disease, says a court spokesperson, nor is there evidence of disease elsewhere in the body." Read the full statement from the court: https://cnn.it/2rL7VFQ
Connecting the dots: NBC's Katy Tur tweeted yesterday that Justice Ginsburg was on her flight to New York City. http://bit.ly/2PS637K
Tur just followed up: "Oh wow. You wouldn't have known. She was moving well yesterday and she spent the entire ride working." http://bit.ly/2EEWmHF
And The Hill's Miranda Green added: "Just saw her at a party the previous Thursday where she took photos with all the guests. This is a shocker." http://bit.ly/2V2ZvXJ
LATEST WITH THE GOVERNMENT FUNDING FIGHT -- T MINUS 11.5 HOURS
Hello, rock! 
Howdy, hard place! 
: 
President Trump had a choice between avoiding a partial government shutdown and appealing to his base and guess what he chose: his base. How that's playing out, via The Hill's Niall Stanage: http://bit.ly/2CsGs1K
It seemed like the chances of a shutdown were slimming. What changed?: "Hardliners in Trump's orbit, as well as commentators who are usually supportive of the president, had been vigorously critical when it looked as if he would sign a funding bill that did not include the $5 billion he had sought to advance the building of a southern border wall."
From a source close to the president: "His reelection effort is 100 percent contingent on building a wall. It is the equivalent of [former President] George H.W. Bush and 'Read my lips, no new taxes.' It is the single most important pledge he has made." I.e. from that source: "Folding on the wall ends it for 2020." 
I bet Brian Schatz
Brian Emanuel SchatzBullock: Running for Senate 'never really got me excited' Cruz asks Trump FAA pick to 'be pissed off' about Boeing crash deaths San Francisco becomes first city to ban facial recognition technology MORE cleans up on airline points: As soon as Sen. Brian Schatz (D-Hawaii) landed in his home state, he immediately had to head right back to Washington, D.C., to avert a shutdown. Quick photo in Hawaii: http://bit.ly/2LwdsJc
Schatz got 17 minutes with his family before he had to fly back: Here's a photo of their brief visit: http://bit.ly/2SecwvR
Here are the 8 House Republicans who voted against Trump's border wall: http://bit.ly/2Bzm51i
Guess who would be furloughed?: More than 1,000 White House staffers, plus 600 would work without being paid. (Via The Associated Press's Zeke Miller) http://bit.ly/2R7bu7D
I thought you could all use a small break: CNN's Abby D. Phillip tweeted, "In other news, my pup is a graduate of puppy school!" Photo -- that puppy graduation cap!: http://bit.ly/2R9Spl6
LATEST WITH MATTIS'S RESIGNATION
As if there wasn't enough chaos this week -- Mad Dog out:
Defense Secretary James Mattis
James Norman MattisPentagon reporters left in dark as Iran tensions escalate Trump officials slow-walk president's order to cut off Central American aid: report Overnight Defense — Presented by Huntington Ingalls Industries — Trump nominates Shanahan as Pentagon chief | House panel advances bill to block military funds for border wall | Trump defends Bolton despite differences MORE announced yesterday that he will resign at the end of February because his views are not in line with President Trump's. What sparked the resignation: Mattis disagreed with Trump over the withdrawal of U.S. troops from Syria and Afghanistan. https://wapo.st/2QHL6Se  
From Mattis's resignation letter: "My views on treating allies with respect and also being clear-eyed about both malign actors and strategic competitors are strongly held and informed by over four decades of immersion in these issues. ... Because you have a right to have a Secretary of Defense whose views are better aligned with yours on these and other subjects, I believe it is right for me to step down from my position." 
Read the full resignation letter: Here's the scanned letter. http://bit.ly/2QIfYSx
How Mattis's resignation creates new cracks between G.O.P. lawmakers and Trump: Via The New York Times's Nicholas Fandos: https://nyti.ms/2rNGviF
The most shocking reaction: Senate Majority Leader Mitch McConnell (R-Ky.) said he was "distressed" by the Mattis announcement in an unusually sharp statement. Excerpt: "So I was sorry to learn that Secretary Mattis, who shares those clear principles, will soon depart the administration. But I am particularly distressed that he is resigning due to sharp differences with the president on these and other key aspects of America's global leadership." Wow. http://bit.ly/2Ra1mLj
This morning -- wow, 'Fox & Friends' is not happy with the decision: Look at this feisty exchange between White House press secretary Sarah Huckabee Sanders and "Fox & Friends" host Brian Kilmeade. Screenshot: http://bit.ly/2CsBHFA
Throwback -- here's a Mattis tidbit from 1998: "My favorite Mattis story: Christmas Day 1998. Brigadier General Mattis learned that a young Marine on watch duty that day had a wife and little kids. So Mattis volunteered to take his place, and spent the day manning a guard gate at Quantico so the Marine could be [with] his family." (Via CNBC's Christina Wilkie) http://bit.ly/2Rco7Oy
Poignant words from Susan Glasser in The New Yorker: "President Trump is ending the year as he began it: outraging Washington with a Twitter diktat, one that was cheered in Moscow and jeered on Capitol Hill." Read her letter: http://bit.ly/2EIhEF8
Interesting point from The New York Times's Maggie Haberman: "The question is whether A) Trump can resist tweeting negatively about Mattis and B) if he does, how much harder it becomes for Senate Rs to avert their gaze." http://bit.ly/2rOPC2k
Check out this morning's Washington Post front page: http://bit.ly/2PVdZ8n
Interesting read: Politico's Blake Hounshell: "Why Mattis Had to Go." https://politi.co/2EFpi2B
Op-ed: http://bit.ly/2BwuAtT
ALTERNATIVE BORDER WALL FUNDING PLAN
I'm borderline delirious from this week and ~thoroughly~ enjoying this back and forth:
A GoFundMe campaign has raised more than $12 million so far for President Trump's proposed border wall.
Who founded the GoFundMe campaign?: President Trump and Stephen Miller. Just kidding. :) Brian Kolfage, who is a triple amputee and Purple Heart recipient, launched the campaign because "it's up to Americans to help out and pitch in to get this project rolling." http://bit.ly/2EAGA0G
The GoFundMe campaign page -- it's pretty fun to keep checking: http://bit.ly/2S9TLtu
So naturally, what do you need to combat that wall?  Let's say it together...
LADDERS!:
Charlotte Clymer, an Army veteran and communications specialist for the Human Rights Campaign, started a follow-up GoFundMe campaign to buy "ladders to get over Trump's wall." How much this campaign has raised so far: More than $80,000. http://bit.ly/2QJIiUQ
The GoFundMe campaign page -- this is also fun to keep checking: http://bit.ly/2Csel2x
LOL:
Daily Beast reporter Lachlan Markay tweeted, "Pleased to announce I've crowdfunded $25,000 for handsaws to neutralize the ladders over Trump's border wall." http://bit.ly/2EIMWvW
IN OTHER NEWS
Spotted picking up trash outside the Massachusetts State House:
Former Gov. Mike Dukakis (D-Mass.). (Via Mass Live's Gintautas Dumcius)  http://bit.ly/2UYRRO2
NOTABLE TWEETS
Oh wow, this photo stresses me out:
It's not a metaphor. Or is it?!?https://t.co/qOdAufhSc3 pic.twitter.com/uxSOPCDUGc

— PoPville (@PoPville) December 20, 2018
Keep in mind: This is on Massachusetts Avenue in D.C. under Thomas Circle. http://bit.ly/2rRD3Dm 
Getting traction -- what do you get when you Photoshop Bob Ross into a Stephen Miller interview?:
850,000+ views. That's what.
OK, maybe just ooooooooooone more ;)#StephenMillerHair pic.twitter.com/wWVcdurXT4

— Paul Lee Ticks (@PaulLeeTicks) December 20, 2018
Watch: http://bit.ly/2RgMjQ8
Back story: https://nydn.us/2LtHBZO
ON TAP
The House and Senate are in. President Trump is at the White House and Vice President Pence has no public events on his schedule. 
What is not on Trump's schedule: President Trump was scheduled to leave for his Mar-a-Lago resort in Florida. The White House says Trump will stay in Washington if there is a shutdown.
11 a.m. EST: President Trump signed the criminal justice reform bill into law.
2 p.m. EST: President Trump signs "the Countering Weapons of Mass Destruction Act." 
WHAT TO WATCH
Happening now: Livestream of the Senate working to keep the government open: https://cs.pn/2GAPopN
NOW FOR THE FUN STUFF...
Today is National Fried Shrimp Day. Feels more like a summer holiday than a four-days-before-Christmas holiday, but what do I know? 
'Friends' fans, you will LOVE this:
Actors Courtney Cox and Tom Selleck, who played ex-lovers Monica Geller and Dr. Richard Burke on "Friends," ran into each other at a restaurant in New York. Twitter user Claudia Oshry captured their impromptu reunion and added, "What will Chandler say?" Video of their interaction: http://bit.ly/2rMhV1u
You won't be able to unsee this about Brad Pitt:
Twitter user @sarahmcgbeauty pointed out that actor Brad Pitt transforms his personal appearance to look like whomever he is dating. Photos -- don't trust me on this, see for yourself: http://bit.ly/2rPYTap  
More examples: http://bit.ly/2EJMihE
Even more examples: http://bit.ly/2rNMuE9 This isn't getting old any time soon.
And to get your holiday weekend off to the right start, here's a golden retriever whose reaction to meeting another dog is the same as mine:  http://bit.ly/2SdF8oY