To view past editions of The Hill's 12:30 Report, click here: http://bit.ly/1M1mIfw
To receive The Hill's 12:30 Report in your inbox, please sign up here: http://bit.ly/1Tt4hqN
--> A midday take on what's happening in politics and how to have a sense of humor about it.*
*Ha. Haha. Hahah. Sniff. Haha. Sniff. Ha--breaks down crying hysterically.
The Hill's 12:30 Report: Shutdown hits Day 18 | Trump to deliver prime-time address | Pelosi, Schumer to offer response | Dems ramp up pressure | Trump faces big decision on declaring national emergency | Shutdown's impact grows | GOP operatives dig for dirt on Beto O'Rourke
Beto O'RourkeO'Rourke: Trump driving global, U.S. economy into recession 2020 Democrats feel more emboldened to label Trump a racist Hillicon Valley: O'Rourke proposal targets tech's legal shield | Dem wants public review of FCC agreement with T-Mobile, Sprint | Voters zero in on cybersecurity | Instagram to let users flag misinformation MORE | Russian lawyer at Trump Tower meeting charged in separate probe | Ginsburg misses second day at Supreme Court
HAPPENING TONIGHT
Coming up on this episode of 'Real World: West Wing' — LIVE from the confessional 
Donald, Nancy and Chuck won't resolve their issues — hear their sides of the story TONIGHT:
President Trump
Donald John TrumpTrump pushes back on recent polling data, says internal numbers are 'strongest we've had so far' Illinois state lawmaker apologizes for photos depicting mock assassination of Trump Scaramucci assembling team of former Cabinet members to speak out against Trump MORE is giving a prime-time address tonight to make his case to the American people on why his demand for $5.7 billion for a border wall was worth shutting down the government. http://bit.ly/2TvWFJ2
Who is airing Trump's speech: NBC, CBS, CNN, Fox, Fox News and ABC will all carry Trump's speech. http://bit.ly/2FkbPx9
How long the speech will last: No longer than eight minutes. 
Livestream: http://bit.ly/2RxdbeL
TRUMP'S BIG DECISION: Will he declare a national emergency to build the border wall without congressional approval? "That route could resolve the immediate crisis by giving Mr. Trump a face-saving way to sign spending bills that do not include funding for his wall. But it would be an extraordinarily aggressive move — at a minimum, a violation of constitutional norms — that would most likely thrust the wall's fate into the courts." What declaring a national emergency would mean: https://nyti.ms/2RJuN7n
FOLLOWED BY: Senate Minority Leader Charles Schumer
Charles (Chuck) Ellis SchumerLewandowski on potential NH Senate run: If I run, 'I'm going to win' Appropriators warn White House against clawing back foreign aid Colorado candidates vying to take on Gardner warn Hickenlooper they won't back down MORE (D-N.Y.) and Speaker Nancy Pelosi
Nancy PelosiWhy President Trump needs to speak out on Hong Kong Anti-Trump vets join Steyer group in pressing Democrats to impeach Trump Pelosi warns Mnuchin to stop 'illegal' .3B cut to foreign aid MORE (D-Calif.) have requested equal airtime to rebut Trump's address. http://bit.ly/2sekMAv
Who is airing the Democratic response: Fox News, Fox Business, NBC, CBS, ABC and CNN will also air the Democratic response. http://bit.ly/2FkbPx9
Throwback: Via C-SPAN's Howard Mortman, here is the first time Pelosi and Schumer shared the podium. Photos from 1994: http://bit.ly/2Rd3t1y
AND THEN ON THURSDAY: President Trump is traveling to the U.S.-Mexico border. http://bit.ly/2RB5Vyf
New tidbit -- Trump is meeting with TV executives for lunch: 
Via The New York Times's Annie Karni and Maggie Haberman, "President Trump has invited representatives from cable and broadcast news channels to an off-the-record lunch at the White House ahead of his prime time speech Tuesday night, an address in which he is expected to frame his demand for border wall funding as a response to a national security and humanitarian crisis." https://nyti.ms/2AvaiRV
It's Tuesday. I'm Cate Martel with a quick recap of the morning and what's coming up. Send comments, story ideas and events for our radar to cmartel@thehill.com — and follow along on Twitter @CateMartel and Facebook. 
Did someone forward this to you? Want your own copy? Sign up here to receive The Hill's 12:30 Report in your inbox daily: http://bit.ly/2kjMNnn
DAY 18 OF THE GOVERNMENT SHUTDOWN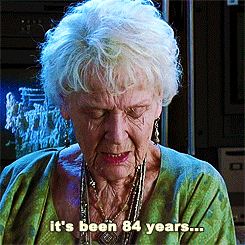 Feeling the pain of the shutdown:
Here are some of the effects around the country from the partial government shutdown.
Food stamps: Funding for food stamps to more than 38 million people will run out next month if the government remains closed. https://cnn.it/2seZ6nO
Just in case airport security doesn't stress you out already: There are reports of long lines at airport security checks around the country. Security concerns have also been raised. http://bit.ly/2H0bMsR
That's trash: Visitors can visit national parks, but there is no trash pick-up during the shutdown. Because it's getting out of hand: "The National Park Service (NPS) announced Sunday it would be taking the unprecedented step of pulling from its entrance fee coffers to pay staffers to return to maintain the overburdened parks." http://bit.ly/2H0bMsR
Well, rats: Via PBS's Jamie Leventhal, the build-up of garbage at closed national parks and monuments has led to an increase in rats in Washington, D.C. https://to.pbs.org/2TyR197
No paychecks on Friday: Many federal employees would be paid this Friday but will not be paid unless a deal is reached by midnight tonight. http://bit.ly/2SDXHTf
Courts: Federal courts are running out of money and will have to scale back their work on Friday. http://bit.ly/2H0bMsR
Subsidized housing: "The Department of Housing and Urban Development (HUD) contracts with 23,000 private apartment building owners to provide Section 8 subsidies for approved tenants. During the shutdown, HUD cannot renew those contracts, putting 1,150 of those buildings in limbo." http://bit.ly/2H0bMsR
WHAT ABOUT IRS TAX REFUNDS?: The Trump administration announced that tax refunds will still be issued, even if the government if shut down. Why this is noteworthy: In past shutdowns, tax refunds were not issued until the government reopened. 
Pelosi — Crank. It. Up.:
House Speaker Nancy Pelosi (D-Calif.) is ramping up pressure on President Trump and the GOP. 
Why — Dems think they can come out as the winners: "Sensing a winning hand, Democrats this week will repackage a handful of uncontroversial bills funding a number of shuttered agencies — excluding Homeland Security, which covers the proposed wall — and send them off to the Senate one by one, forcing GOP leaders to explain their promised inaction on measures they supported just weeks ago." 
Which bills House Democrats will hold a vote on: http://bit.ly/2Fg01wG
FROM THE WHITE HOUSE
Remember when Trump said former presidents told him to build the wall? Then presidents said they never discussed it and it got awkward?:
Well, Vice President Pence said during an interview on NBC's "Today" that Trump had been given the "impression" that former presidents wanted him to build the wall. http://bit.ly/2FiOZpW
BACK STORY: President Trump claimed that former presidents told him they wanted him to build a wall on the border. Statements from all living former presidents pushing back on that claim: https://wapo.st/2LXJNZR
THROWBACK — OH HOW THINGS HAVE CHANGED: Check out this cover of Time magazine 30 years ago this week: http://bit.ly/2CVNIDE
IN OTHER NEWS
Ginsburg misses a second day of court: 
Justice Ruth Bader Ginsburg is absent again today on the Supreme Court bench. Why: She is still recuperating from a Dec. 21 surgery to remove two cancerous nodules from her lung. Keep in mind: "The Supreme Court said scans performed before surgery indicated no evidence of disease elsewhere in her body, and no further treatment is planned." http://bit.ly/2LZMrhF
*Cracks knuckles, stretches and logs into social media* — Let's do this:
Via The Hill's Amie Parnes, Republican operatives are eagerly digging into Democratic rising star Beto O'Rourke's past to look for dirt. For example: Looking into the former Texas congressman's voting record and a 1998 drunken driving accident. http://bit.ly/2TDi03v
New tidbit about the Russian lawyer from the 2016 Trump Tower meeting:
Via The Hill's Morgan Chalfant, "A Russian lawyer who attended a 2016 Trump Tower meeting with Trump campaign officials has been charged with attempting to stop a federal investigation into money laundering." Details: "In the 19-page filing unsealed Tuesday, federal prosecutors accuse Natalia Veselnitskaya of obstructing justice by intentionally trying to stop a Justice Department civil fraud probe that involved a Russian businessman and his investment firm who she was representing." http://bit.ly/2M2tnzu
NOTABLE TWEETS
Whoooa — I promise this is worth watching until the end:
The video has nearly 8 million views so far.
Oh my God. What is this sorcery???

Wait for it... pic.twitter.com/9KJyALzmuT

— Qasim Rashid, Esq. (@MuslimIQ) January 8, 2019
Watch: http://bit.ly/2CcOU3I


ON TAP
Noon: The House meets. The House's full schedule today: http://bit.ly/2TBiAPc
3 p.m. EST: The Senate meets. The Senate's full schedule today: http://bit.ly/2VAO1ej
4 p.m. EST: Sen.-elect Rick Scott (R-Fla.) will be sworn in.
5:30 p.m. EST: The Senate holds a procedural vote.
6:30 p.m. EST: Votes postponed in the House.
WHAT TO WATCH
4:30 p.m. EST: House Speaker Nancy Pelosi (D-Calif.) joins Democrats to announce a universal gun background check bill. Livestream: https://cs.pn/2RxGNIU
9 p.m. EST: President Trump gives a prime-time address from the Oval Office. Livestream: http://bit.ly/2RxdbeL
NOW FOR THE FUN STUFF...
Today is National English Toffee Day.
So dating is fun:
Via The Washington Post's Antonia Noori Farzan, "She bragged to a man on a dating app about poaching deer. He was a game warden." The full story: https://wapo.st/2LYLciW
And because this made my morning, here's a chicken walking a chicken. "Nothing to see here." http://bit.ly/2SJW6eI