To view past editions of The Hill's 12:30 Report, click here: http://bit.ly/1M1mIfw
To receive The Hill's 12:30 Report in your inbox, please sign up here: http://bit.ly/1Tt4hqN
 --> A midday take on what's happening in politics and how to have a sense of humor about it.*
*Ha. Haha. Hahah. Sniff. Haha. Sniff. Ha--breaks down crying hysterically.
The Hill's 12:30 Report: Manchin to stay in Senate, declining run for governor | Trump tweetstorm as Dorian heads to southeast coast | Latest on hurricane | Stocks fall after Trump's China tweets | Congress faces chaotic fall | Seven issues on the agenda | Pence staying at Trump resort far from meetings during Ireland visit | Costco selling 72-pound cheese wheel
NEWS THIS MORNING
Senate Democrats, you may exhale:
Sen. Joe Manchin
Joseph (Joe) ManchinTrump meets with potential Supreme Court pick Amy Coney Barrett at White House Names to watch as Trump picks Ginsburg replacement on Supreme Court Momentum growing among Republicans for Supreme Court vote before Election Day MORE (D-W.Va.) has decided he will not run for governor in 2020 and will instead stay in the Senate. http://bit.ly/30Psalw
Manchin said in a statement: "I have always said that 'public service is not self-service.' So, when considering whether to run for Governor, I couldn't focus just on which job I enjoyed the most, but on where I could be the most effective for the Mountain State. Ultimately, I believe my role as U.S. Senator allows me to position our state for success for the rest of this century."
Why this is a big win for Democrats: "Manchin, who has held statewide office since 2001, is one of the only Democrats who has proven capable of winning West Virginia as it turns increasingly red. He won reelection in 2018 by a slim 3-point margin over Attorney General Patrick Morrisey (R)." http://bit.ly/30Psalw
It's Tuesday and it's already September. Welcome back! I'm Cate Martel with a quick recap of the morning and what's coming up. Send comments, story ideas and events for our radar to cmartel@thehill.com -- and follow along on Twitter @CateMartel and Facebook.
Did someone forward this to you? Want your own copy? Sign up here to receive The Hill's 12:30 Report in your inbox daily: http://bit.ly/2kjMNnn
IN THE WHITE HOUSE
RIP, Trump's phone battery:
Via The Hill's Brett Samuels, President Trump
Donald John TrumpBubba Wallace to be driver of Michael Jordan, Denny Hamlin NASCAR team Graham: GOP will confirm Trump's Supreme Court nominee before the election Southwest Airlines, unions call for six-month extension of government aid MORE tweeted more than 100 times over the three-day weekend, mainly focusing on the impending hurricane. 
But there were a few shots at the media: For example, Trump tweeted that South Carolina, North Carolina, Georgia and Alabama would likely get hit by the storm. The National Weather Service in Birmingham, Ala., quickly refuted Trump's forecast for Alabama. Trump then criticized ABC News anchor Jon Karl for a report about his inaccurate forecast. Karl wasn't the only journalist to receive Trump's ire.
Here's a quick catch-up: http://bit.ly/2ZPwAvH
The market didn't have the best morning:
"U.S. stock markets took a dive Tuesday morning, as President Trump vowed to keep up the pressure on China in the year-plus trade war." http://bit.ly/30PwKjI
Trump tweeted before the opening bell: "We are doing very well in our negotiations with China. While I am sure they would love to be dealing with a new administration so they could continue their practice of 'ripoff USA'($600 B/year),16 months PLUS is a long time to be hemorrhaging jobs and companies on a long-shot … And then, think what happens to China when I win. Deal would get MUCH TOUGHER! In the meantime, China's Supply Chain will crumble and businesses, jobs and money will be gone!" http://bit.ly/30TqLuk
Followed by: "The Dow Jones Industrial Average has since fallen 377 points to 26,062, a 1.43 percent drop."  
Op-ed: http://bit.ly/30SqaJ7
LATEST WITH HURRICANE DORIAN
Go away, Dorian:
Hurricane Dorian is headed for the southeast coast today after battering the Bahamas. Here's the latest forecast from The Weather Channel: https://wxch.nl/2ZAukIx
Watch CNN correspondent Patrick Oppman, who is in the Bahamas, describes what it has been like: It is heartbreaking.  http://bit.ly/3136rqB
Where is Dorian now?: Here's a CNN storm tracker: https://cnn.it/2pHnnl4
The view from space: Here is NASA video of Hurricane Dorian from space: http://bit.ly/2ZED1BE
Wow: Check out the lightning from Dorian. Watch: http://bit.ly/2ZDYudT
Deaths: At least five people have died so far: https://nyti.ms/30TiNkU
Flight cancellations: More than 1,600 flights have been canceled for Tuesday. http://bit.ly/2ZCSYbf
Evacuations: At least 1 million people are under evacuation orders. Here is a list of evacuations in Florida, Georgia and South Carolina: http://bit.ly/30TyQ27
Walt Disney World is closing early: The parks are all closing by 3 p.m. EDT today. How Disney is handling the storm: http://bit.ly/30X2ALu
To give you an idea of the flooding:
Frightening video of flooding inside a home reported to be in The Bahamas. The water is nearing the top of door frames. #Dorian pic.twitter.com/YGRqTYjQqK

— Shawn Reynolds (@ShawnReynolds_) September 2, 2019
Watch: http://bit.ly/2ZDZEpx
WHAT TO EXPECT IN THE D.C. AREA:
Via WTOP, "The immediate D.C. area is expected to see only showers with gusty winds on Dorian's outskirts. Places such as Virginia Beach and the Maryland and Delaware beaches, were being told to keep a close eye on the latest official forecast." http://bit.ly/2ZAun7b
IN CONGRESS
Congress rolls into September like...: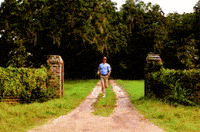 Via The Hill's Jordain Carney, Congress is returning to a legislative sprint in the fall. 
How many days both chambers will be in session this year: Around 40 days. 
SEVEN ISSUES TO WATCH: 
Gun legislation: Congress is returning for the first legislative session since the mass shootings in Texas and Ohio. Lawmakers have floated responses to the shootings, including expanded background checks and studying mental health. 
Government funding: Congress has just 13 working days to fund the government and avoid another shutdown. "Though the House has passed 10 of its 12 annual funding bills, the Senate didn't pass any as they waited for congressional leaders and Trump to strike a two-year budget deal."
Impeachment: "Impeaching Trump isn't on the House agenda for the fall, but the debate within the chamber's Democratic caucus is likely to loom over the relationship between Capitol Hill and Trump." 
Trade: President Trump's trade deal with Mexico and Canada is expected to be a Republican priority this fall. 
Surveillance: "Congress will need to tackle an end-of-the-year surveillance fight, with three provisions in the Foreign Intelligence Surveillance Act set to expire in mid-December."
Saudi relations: "Senators are expected to force a vote this month on a resolution related to arms sales and U.S. security assistance to Saudi Arabia -- a growing flashpoint on Capitol Hill in the wake of Washington Post contributor Jamal Khashoggi's death last year at the Saudi consulate in Istanbul."
Defense policy: "Congress needs to finalize a mammoth defense policy bill, viewed as must-pass legislation that has successfully made it through Congress for almost 60 consecutive years." 
Context and details for each: http://bit.ly/2ZAlSsN
It's up to the big guy:
Senate Majority Leader Mitch McConnell
Addison (Mitch) Mitchell McConnellGraham: GOP will confirm Trump's Supreme Court nominee before the election Trump puts Supreme Court fight at center of Ohio rally The Memo: Dems face balancing act on SCOTUS fight MORE (R-Ky.) said President Trump's support is critical for gun legislation getting a vote on the Senate floor. http://bit.ly/2ZE6StF
McConnell told radio host Hugh Hewitt: "If the president is in favor of a number of things that he has discussed openly and publicly and I know that if we pass it, it will become law, I'll put it on the floor." 
What to expect: http://bit.ly/2ZE6StF
Tidbit: 
The Hill's Miranda Green tweeted a photo of a Jamba Juice under construction in the Longworth House Office Building. Photo: http://bit.ly/314HkTW
NOTABLE TWEETS
August recess in the Capitol: 
anyway the Capitol is always better during August recess pic.twitter.com/JOAt9kgeBs

— Haley Byrd (@byrdinator) August 27, 2019
Watch: http://bit.ly/2ZOxHM8
ON TAP
The House and Senate are out.
President Trump is in Washington, D.C. 
Vice President Pence is in Ireland. By the way: Pence is staying at a Trump resort in Ireland that is roughly 180 miles away from his meetings. http://bit.ly/2ZJaieN
6:10 a.m. EDT: Vice President Pence and Karen Pence
Karen Sue PenceThe Hill's 12:30 Report - Presented by Facebook - Biden, Pence elbow bump at NYC Sept. 11 ceremony The Hill's Morning Report - Sponsored by National Industries for the Blind - Trump seeks to flip 'Rage' narrative; Dems block COVID-19 bill Pentagon, Trump, Biden to mark 9/11 anniversary MORE met with Irish President Michael D. Higgins and his wife, Sabrina Higgins. 
9:30 a.m. EDT: Vice President Pence participated in a roundtable with U.S.-Ireland business leaders in Dublin.
11:45 a.m. EDT: President Trump received an intelligence briefing.
12:55 p.m. EDT: Vice President Pence and Karen Pence land in Shannon, Ireland. 
3:30 p.m. EDT: President Trump meets with Defense Secretary Mark Esper
Mark EsperUS issues Iran sanctions to enforce UN action ignored by international community Top admiral: 'No condition' where US should conduct nuclear test 'at this time' Overnight Defense: Trump hosts Israel, UAE, Bahrain for historic signing l Air Force reveals it secretly built and flew new fighter jet l Coronavirus creates delay in Pentagon research for alternative to 'forever chemicals' MORE in the Oval Office. 
WHAT TO WATCH
8:45 a.m. EDT: Vice President Pence delivered joint remarks with Taoiseach Leo Varadkar in Dublin. Livestream: http://bit.ly/2ZC5XtT
NOW FOR THE FUN STUFF...
Today is National Welsh Rarebit Day.
USA, USA, USA:
Costco is now selling at 72-pound wheel of cheese for $900. Details: http://bit.ly/2ZEDPGG
And because you made it this far, here's a turtle that really wants to play: http://bit.ly/314Ts7q