To view past editions of The Hill's 12:30 Report, click here: http://bit.ly/1M1mIfw
To receive The Hill's 12:30 Report in your inbox, please sign up here: http://bit.ly/1Tt4hqN
--> A midday take on what's happening in politics and how to have a sense of humor about it.*
*Ha. Haha. Hahah. Sniff. Haha. Sniff. Ha--breaks down crying hysterically.
The Hill's 12:30 Report: Trump, Congress return to impeachment, Iran crises | Bolton willing to testify in impeachment trial if subpoenaed | Trump demands quick trial | Pelosi says House to vote on limiting Trump's actions on Iran | Trump vows Iran will 'NEVER' have nuclear weapons | Biden uses general election strategy in Dem primary | Castro endorses Warren | The Bachelor returns for season 24  
It's 2020. Don't you forget it. 
TALK OF THE MORNING
Everyone returning from the holidays like...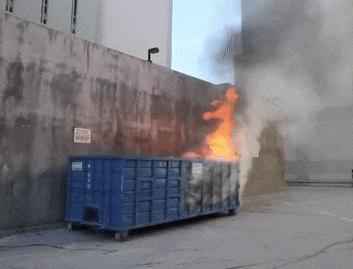 President Trump
Donald John TrumpNational Archives says it altered Trump signs, other messages in Women's March photo Dems plan marathon prep for Senate trial, wary of Trump trying to 'game' the process Democratic lawmaker dismisses GOP lawsuit threat: 'Take your letter and shove it' MORE and Congress are back in Washington, D.C. this week after the holidays, returning to dueling crises.
No. 1: The looming impeachment trial in the Senate.
No. 2: The international crisis after Trump ordered the killing of a top Iranian official.
What to expect this week: http://bit.ly/2N1pU5N
It's Monday. I'm Cate Martel with a quick recap of the morning and what's coming up. Send comments, story ideas and events for our radar to cmartel@thehill.com — and follow along on Twitter @CateMartel and Facebook.
Did someone forward this to you? Want your own copy? Sign up here to receive The Hill's 12:30 Report in your inbox daily: http://bit.ly/2kjMNnn
LATEST WITH IRAN
It's no longer 2015:
Via The New York Times's Alissa J. Rubin, Ben Hubbard, Farnaz Fassihi and Steven Erlanger, Iran announced that it is rolling back its commitments under the 2015 nuclear agreement with the United States. https://nyti.ms/2Fribtu
From the Iranian government: "Iran's nuclear program will have no limitations in production, including enrichment capacity." 
Keep in mind: President Trump pulled the U.S. out of the Iran nuclear deal in 2018, but Europe has been trying to keep the terms of the deal. 
TRUMP TWEETED THIS MORNING:
"IRAN WILL NEVER HAVE A NUCLEAR WEAPON!" http://bit.ly/2QSE2iS
House Democrats are sending a message:
Speaker Nancy Pelosi
Nancy PelosiRepublicans will pay on Election Day for politicizing Trump's impeachment Trump chooses high-profile but controversial legal team Trump: Impeachment timing intended to hurt Sanders MORE (D-Calif.) said the House will vote on a resolution to limit President Trump's military actions towards Iran. http://bit.ly/2QrjZZO
What this "War Powers Resolution" would do: It would require the president to end any military actions against Iran within 30 days if no congressional action is taken. 
Yes, but...: Trump would almost definitely veto this bill, and it is unlikely that Democrats can pull together enough votes to override the veto.
Op-ed: http://bit.ly/35swmcn
LATEST WITH THE IMPEACHMENT
Just now — John Bolton
John BoltonDems plan marathon prep for Senate trial, wary of Trump trying to 'game' the process Republicans will pay on Election Day for politicizing Trump's impeachment The Hill's 12:30 Report: Trump beefs up impeachment defense with Dershowitz, Starr MORE is willing to testify:
Via The Hill's Morgan Chalfant, President Trump's former national security adviser John Bolton just said he is willing to testify in the Senate trial if he is subpoenaed. http://bit.ly/2ZXaW5W
Bolton said in a statement: "The House has concluded its Constitutional responsibility by adopting Articles of Impeachment related to the Ukraine matter. It now falls to the Senate to fulfill its Constitutional obligation to try impeachments, and it does not appear possible that a final judicial resolution of the still-unanswered Constitutional questions can be obtained before the Senate acts. Accordingly, since my testimony is once again at issue, I have had to resolve the serious competing issues as best I could, based on careful consideration and study. I have concluded that, if the Senate issues a subpoena for my testimony, I am prepared to testify."
Why this is newsy: Bolton had previously said a judge would need to decide whether he can testify. 
Keep in mind: Trump ousted Bolton from his post in September. 
This is a pretty important week:
Via The Hill's Jordain Carney, "The hardening battle lines come as the two articles of impeachment could be transmitted to the Senate as soon as this week. The House returns to Washington on Tuesday for the first time this year, and Democrats will meet on Wednesday, setting the stage for a crucial decision time." http://bit.ly/2FvcGKh 
Any developments during the holiday break?: Not really. No decisions over witnesses or procedure came out of recess.
On Friday: "Senate Majority Leader Mitch McConnell
Addison (Mitch) Mitchell McConnellDems plan marathon prep for Senate trial, wary of Trump trying to 'game' the process Senate GOP mulls speeding up Trump impeachment trial Republicans will pay on Election Day for politicizing Trump's impeachment MORE (R-Ky.) and Minority Leader Charles Schumer
Charles (Chuck) Ellis SchumerSanders defends vote against USMCA: 'Not a single damn mention' of climate change Schumer votes against USMCA, citing climate implications Senators are politicians, not jurors — they should act like it MORE (D-N.Y.) traded barbs during a rare Friday session, with neither appearing closer to conceding. McConnell appeared unmoved by Schumer's request for Ukraine-related documents and witnesses." When they last discussed impeachment: Dec. 17. What to expect this week: http://bit.ly/2FvcGKh
This morning — Trump called his impeachment a 'con game,' 'scam,' 'hoax' and 'witch hunt':
President Trump demanded that the impeachment trial be short, accusing Democrats of extending the process for political reasons. http://bit.ly/2FnnnP1
One of his tweets: "The Impeachment Hoax, just a continuation of the Witch Hunt which started even before I won the Election, must end quickly. Read the Transcripts, see the Ukrainian President's strong statement, NO PRESSURE - get this done. It is a con game by the Dems to help with the Election!" http://bit.ly/2QstM1N
See his full tweets: http://bit.ly/2kTEoGF
ON THE CAMPAIGN TRAIL
This a.m. — Picking among your former rivals:
Less than a week after dropping out of the 2020 race for the Democratic presidential nomination, former Housing and Urban Development Secretary Julián Castro endorsed Sen. Elizabeth Warren
Elizabeth Ann WarrenSanders to headline Iowa event amid impeachment trial Hill.TV's Saagar Enjeti rips Sanders over handling of feud with Warren On The Money — Presented by Wells Fargo — Sanders defends vote against USMCA | China sees weakest growth in 29 years | Warren praises IRS move on student loans MORE (D-Mass.) for president. http://bit.ly/2FnnnP1
Castro made his announcement on Twitter: He tweeted, "Today I'm proud to endorse @ewarren for president. Elizabeth and I share a vision of America where everyone counts. An America where people⁠—not the wealthy or well-connected⁠—are put first. I'm proud to join her in the fight for big, structural change." http://bit.ly/2tDNlv1
Biden is running a general election campaign:
Via The Hill's Amie Parnes, "Former Vice President Joe Biden
Joe BidenSanders to headline Iowa event amid impeachment trial Hillicon Valley: Biden calls for revoking tech legal shield | DHS chief 'fully expects' Russia to try to interfere in 2020 | Smaller companies testify against Big Tech 'monopoly power' Hill.TV's Krystal Ball on Sanders-Warren feud: 'Don't play to the pundits, play to voters' MORE is running a general election campaign during the Democratic primary. While other candidates are running campaigns tailored to the Democratic base, Biden's message, for the most part, is targeting centrists and independents, a move typically reserved for the general election." 
Keep in mind: "While the strategy can be risky for primary candidates, Democrats say the strategy works well for Biden. He is currently well ahead of his competitors." 
The pros and cons of this strategy: http://bit.ly/2SWNAft
WHAT ELSE IS HAPPENING ON CAPITOL HILL THIS WEEK
Trade: The Senate Finance Committee is marking up President Trump's trade deal with Mexico and Canada on Tuesday. Keep in mind: The trade deal already passed the House last month. 
A new senator in town: Vice President Pence is swearing in Republican Kelly Loeffler today to be the next senator from Georgia. Why: Loeffler is succeeding Sen. Johnny Isakson
Johnny IsaksonOvernight Health Care: New drug price hikes set stage for 2020 fight | Conservative group to spend M attacking Pelosi drug plan | Study finds Medicaid expansion improved health in Southern states New Georgia senator takes spot on health committee Loeffler sworn in to Georgia seat MORE (R-Ga.), who stepped down because of his health. 
A nomination: The Senate is holding a procedural vote tonight on the nomination of Jovita Carranza to lead the Small Business Administration.
Context and details: http://bit.ly/2tAPgAw
NOTABLE TWEETS
Oh mannnnn — this is the best story I've read in a while:  
The headline's good, but the rest is even better pic.twitter.com/HHpmPNxR1x

— Jessica Cluess (@JessCluess) December 28, 2019
I have so many questions.
ON TAP
The House is out. The Senate meets this afternoon. President Trump and Vice President Pence are in Washington, D.C.
11:45 a.m. EST: President Trump participated in a credentialing ceremony for newly appointed ambassadors to Washington, D.C.
12:15 p.m. EST: President Trump receives an intelligence briefing.
1 p.m. EST: President Trump has lunch with Vice President Pence. 
2:30 p.m. EST: Vice President Pence swears in the director of U.S. Fish and Wildlife Services.
3 p.m. EST: The Senate meets.
5 p.m. EST: Vice President Pence swears in Sen. Loeffler (R-Ga.) at the U.S. Capitol.
5:30 p.m. EST: The Senate holds a cloture vote on a nomination. The Senate's full schedule today: http://bit.ly/302yCWU
Tuesday: The House returns.
WHAT TO WATCH
8 p.m. EST: The 24th season of "The Bachelor" kicks off on ABC. 
NOW FOR THE FUN STUFF...
Today is National Shortbread Day.
And to brighten your January Monday, here's a dog who is absurdly good at Jenga. What even?: http://bit.ly/36p7ZO9