Latino
Hispanic voter registration spikes
Registration among Hispanic voters is skyrocketing in a presidential election cycle dominated by Donald Trump and loud GOP cries to close the border.
Arturo Vargas, executive director of the National Association of Elected and Appointed Officials, projects 13.1 million Hispanics will vote nationwide in 2016, compared to 11.2 million in 2012 and 9.7 million in 2008.
Many of those new Hispanic voters are also expected to vote against Trump if he is the Republican nominee, something that appears much more likely after the front-runner's sweeping primary victories Tuesday in five East Coast states.
A whopping 80 percent of respondents in a poll of registered Hispanic voters in Colorado and Nevada said Trump's views on immigration made them less likely to vote for Republicans in November. In Florida, that number was 68 percent.
The figures are sparking confident tones from Democrats, who think their party's nominee will benefit from a huge advantage in the fall not only in the presidential race but also in battles for the House and Senate.
Because of the contrast between the GOP and Democratic fields, "we feel absolutely confident about our chances of electing Democrats up and down the ballot in November," said Walter Garcia, western regional communication director for the Democratic National Committee.
Many of the newly registered Hispanic voters are in California and Texas, relatively safe states for Democrats and Republicans, respectively.
In fact, because so many Hispanic voters live in those states, the effect of the rising registration numbers will be somewhat undercut, according to Vargas.
Still, rising registration rates among Hispanics in Colorado, Florida and Nevada could make it easier for the Democratic candidate to retain those swing states. Even Arizona could be in play, say some poll watchers.
Registration is a game-changer with Hispanic voters.
Only about 48 percent of eligible Hispanics vote, but nearly 80 percent of registered Hispanics go to the ballot box.
Democrats have already targeted Colorado, Florida and Nevada with at least $15 million for Hispanic outreach, according to Vargas.
In Colorado, where 15 percent of eligible voters are Hispanic, the demographic has already shown its ability to flip elections.
The 2016 Colorado Democratic caucuses were one of the first big tests for presidential candidate Bernie Sanders against rival Hillary Clinton. With nearly 30,000 newly registered voters and strong support from Hispanic millennials, Sanders beat Clinton by more than 20,000 votes.
President Obama won 51.5 percent of the vote in Colorado in 2012, compared to 46 percent for GOP nominee Mitt Romney. In Nevada, Obama won 52 percent of the vote to Romney's 46 percent.
Arizona has been a relatively safe state for Republicans in recent presidential elections, but Democrats have long wondered if they could make it competitive.
Romney won 53.5 percent of the vote there in 2012, Obama 44.5 percent.
David Lublin, professor of government at American University, describes Arizona as "the sort of state that if Clinton starts moving into landslide or big-win territory, she could win."
Yet the real danger for Republicans could be down the ballot — particularly in the battle for the Senate, where longtime Sen. John McCain (R-Ariz.) could be a target.
Obama won 74 percent of the Hispanic vote in 2012, according to exit polls by NBC.
A Democrat in 2016 would likely depend on larger Hispanic turnout and a larger share of the white vote to win the state.
Romney hurt himself with Hispanic voters in 2012 by suggesting that undocumented workers self-deport. He moved to the right on immigration and border security in the primary and was relatively quiet on the issue in the general election.
Both parties think Trump's rhetoric, which has included insults directed at Mexicans and a plan to build a wall on the border and make Mexico pay for it, could be more difficult to overcome in a general election.
Trump has "motivated Latino voters," said Rep. Norma Torres (D-Calif.)
Immigration was shown by an America's Voice/Latino Decisions poll to be the primary issue driving Hispanics away from Republican candidates in 2016.
However, Hispanic voters nationally said the most important issue facing the country is the economy.
Ruth Guerra, Republican National Committee director of Hispanic media, gives little credence to the polls: "Not only is Latino Decisions on Hillary Clinton's payroll, they have proven to be inaccurate time and again, so we will take their results in context."
She also criticized Clinton, the likely Democratic nominee, on immigration issues, accusing her of thinking Hispanics would have "amnesia."
She noted that Clinton was opposed to giving drivers licenses to undocumented workers as a senator from New York but has now reversed her position.
"Clinton's flip flops and hypocrisy on immigration are a mile long because she will tell voters anything to win an election," Guerra said.
A win by a Democrat presidential candidate in Florida, Colorado and Nevada would make it very difficult for a GOP candidate to reach 270 electoral votes and win the White House.
In fact, Democrats could actually lose the swing state of Ohio but win Pennsylvania or Wisconsin and get to 270 — simply by holding other states that have voted for the Democratic nominee in presidential elections for the last six cycles.
Jon Ralston, a veteran Nevada political journalist who is not surprised by the numbers, said, "The real problem is that Trump, and, to a lesser degree, Cruz, will drive up Hispanic turnout against Republicans."
He said the only path for the GOP nominee to the White House in such a situation would be to win more white votes.
Ralston described this as "a path we have never seen before. Huge increase in white vote."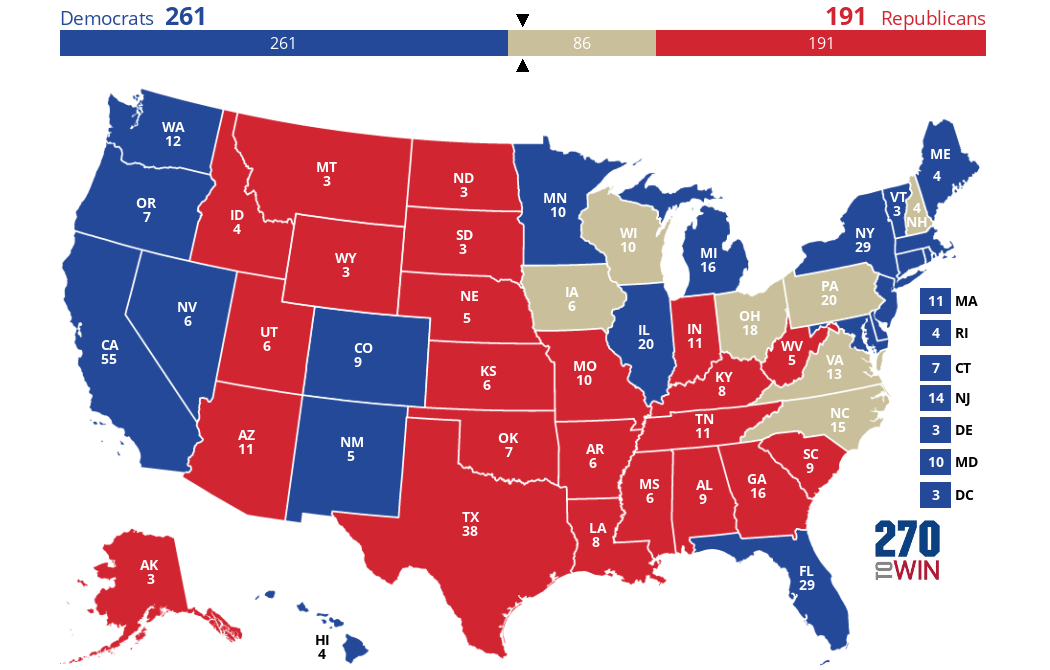 Click the map to create your own at
270toWin.com
If the numbers hold true, the electoral map becomes daunting for Republicans with the three states in question turned solid blue. Based on 270towin's 2016 toss-up map, Democrats would only have to win one of either Wisconsin, Ohio, Pennsylvania, Virginia or North Carolina (or a more unlikely combination of only New Hampshire and Iowa) if the Hispanic vote does indeed deliver Colorado, Florida and Nevada.
"It's not a favorable situation among Latinos and it doesn't seem like Republicans will be able to make it up among white voters," said Lublin.